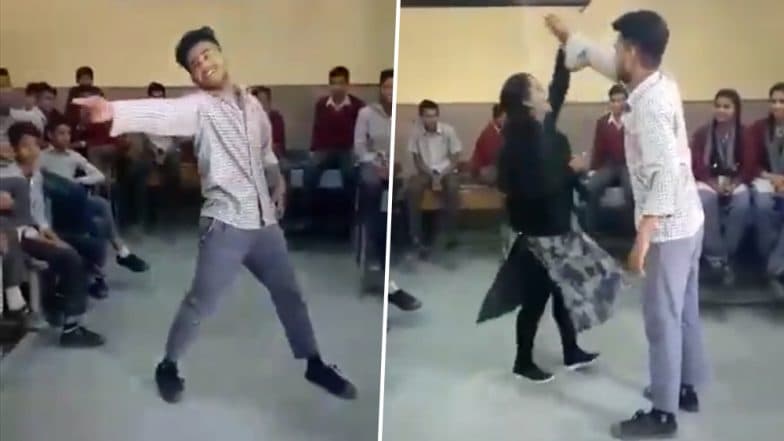 It is an important day for all women around the world as it is International Women's Day today. Everyone makes a dedication or at least sends wishes and greetings of Happy Women's Day. Mother, sister, colleague, teachers or best-friend, each female is honoured for Women's day. Among all of the wishes, greetings that are being exchanged online, a TikTok video of a student's unique wish for his teacher is going viral. In the age of making viral TikTok videos, this dance by a student dedicating and wishing his teachers is amazing as the teachers in the classroom also join along. The boy is dancing on famous Bollywood track Tujh Mein Rabb Dikhta Hain from Rabb Ne Bana Di Jodi. Man Dances to Iconic Doordarshan News Tune in Viral Tiktok Video, Internet Impressed! (Watch).
The video is from a classroom setting which shows a boy mastering some dance moves. The college is not known but it is apparently a Class 12 farewell function, where this boy makes a beautiful dedication saluting his class teachers. The teachers also join along and the enthusiasm among the other students is also clearly seen. Makeup Tutorials: Bizarre TikTok Video of a POTATO Getting a Makeover Goes Viral on the Internet.
Watch Viral Video of Student Dancing and Making a Dedication to His Teachers in a Classroom
Via Whatsapp. God knows frm where in India, but apparently a 12th standard student dancing at his class's farewell and saluting his school teachers. Lovely moment when a teacher joins in the dance. Took away all my stress of the day! pic.twitter.com/ewogwLr3Uj

— Sonal Kalra (@sonalkalra) March 7, 2019
Shared just a day before International Women's Day 2019, the video has been going viral on social media. It has got over 90,000 views. It is being shared widely on Twitter, Facebook and WhatsApp. It is indeed amazing to see how well-coordinated moves the guy has. The teachers too seem impressed by his moves and willingly join along. So you need not do something too big but a simple act or a dance dedication can also work too well.