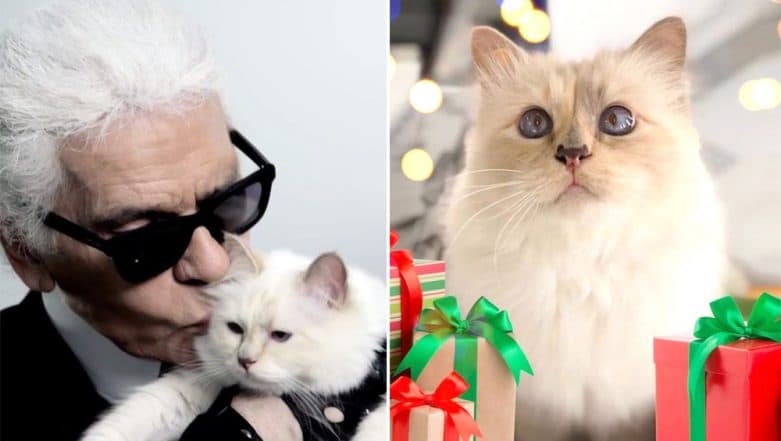 It was a huge loss for the fashion industry when Karl Lagerfeld, the art director of Chanel passed away on February 19. He was 85 years old and was a true genius gem in the field of fashion. With amazing creations that he created for Chanel, Fendi and his own label, Karl leaves behind a huge fortune worth $200 Million. And he leaves behind something very precious to him, his pet cat Choupette. The white-haired Birman who was constantly by Karl's side was raised in much luxury by her owner. Lagerfeld had called her an heiress in several interviews and said she will have a part of his fortune. So the question remains will Choupette be the owner of her dear owner's fortune? Chanel Designer Karl Lagerfeld Passes Away At The Age Of 85.
"Choupette is a rich girl," as Lagerfeld once told in a TV interview. She's used to living a life where she eats of silver plates and has her personal bodyguards along with two maids. Lagerfeld ensured that his pet would continue with the lifestyle he raised her in. Karl Lagerfeld Once Helped a Little Girl Dress Up As a Box! Story of Chanel Creative Director's Kindness Goes Viral.
Watch Video: Karl Lagerfeld Passes Away in Paris
Ashley Tschudin, who runs  Choupette's social media account made a statement on her behalf on passing away of her owner. "During this time, Choupette is coping with the loss the best she knows how to, but at such a young age (and being a cat), that is challenging. Karl Lagerfeld is and will always be her 'Daddy'. She is choosing to put her best paw forward and hopes that her loyal fans and followers will continue with their outpouring of love to help ease the pain," it read. Let us know some more amusing facts about this pet who has lived a life of sheer luxury!
5 Facts About Choupette, Karl Lagerfeld's Cat
Karl Lagerfeld had got this white Birman feline from his model friend Baptiste Giabiconi in the year 2011. Some say Lagerfeld had actually catnapped the feline from the model.

Choupette Lagerfeld is an active social media star! With over 1,79,000 followers on her Instagram account choupettesdiary documents her daily life of luxe and pampering. Choupette's account bio mentions Karl Lagerfeld as "daddy" and being pampered by the maids of Chanel and Fendi.
Karl and Choupette:
Choupette has made a million bucks herself by starring or rather modelling in advertisements of Japanese cosmetic brand and also for a German car brand called Vauxhall.

Choupette travels only by private jets. She has two maids who look after her and has lived in unbridled luxury.

There is a whole book written on the life of this cat. Called "Choupette: The Private Life of a High-Flying Fashion Cat", it speaks volumes about the kind of luxury she has lived in. It includes some of her favourite recipes which are prepared at the best restaurants in Paris.
Choupette is surely the luckiest cat in the world. For Lagerfeld, she was the centre of his world. "She has something unforgettable in the way she moves -- I'm inspired by her elegance and her attitude," he was quoted. He kept her no less than a queen and with her master gone, it remains to be seen if she gets to keep the fortune he made.