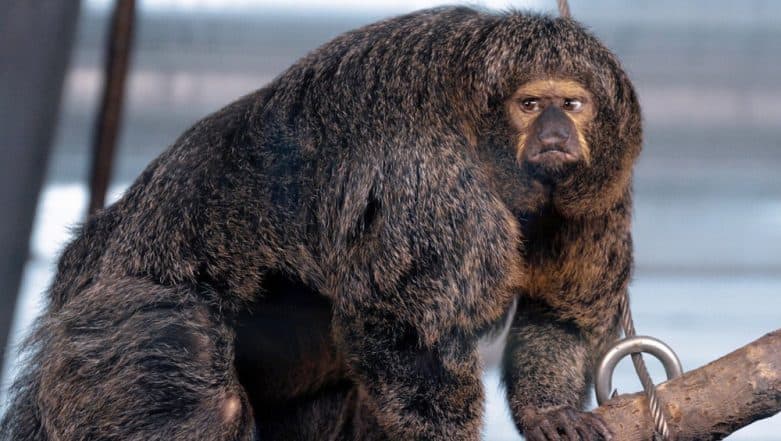 Are you a workout enthusiast and often keep looking up to bodybuilders pictures and videos for motivation? Then there is someone from the animal world who will pump you up with the same energy. A muscular monkey from Finland looks like such a great bodybuilder that it can put some of the budding workout members to shame. A photo clicked by a Finnish photographer from Korkeasaari Zoo in Helsinki of a beefed-up monkey is being appreciated everywhere on the internet. Cat Shares Some Fitness Goals While Doing Sit-Ups Underneath a Car! Watch the Cutest Workout Video.
Looks like the monkey has a better workout regime than some of the gym goers today. It is a female monkey, a White-Faced Saki and although it looks big, it won't grow taller than 40 cms. Santeri Oksanen who captured the monkey was quoted to SWNS, "I couldn't believe the huge muscles that the monkey had. The other monkeys were very small in comparison, they all looked a bit scared of her." He said that the picture does look like the monkey looks like it is competing for a contest and we sure agree. In A Hilarious Video From Chinese Zoo Monkey Snatches Tourist's Wallet & Throws Away All the Money.
Here's a Picture of The Buff Monkey Captured in Finland Zoo
Insanely muscular monkey spotted in Finland https://t.co/inoSgruQn9 pic.twitter.com/dBBWXZ6ogc

— New York Post (@nypost) March 15, 2019
Does this monkey give you fitness goals to hit the gym? And if this doesn't then we don't know what will! It sure has some insane muscles. Although some of the users have made jokes on the monkey's angry expressions.
Relating to The Expressions
i need you all to understand that going forward this frowning muscular monkey picture is going to serve as my default response to 74% of all questions and statements pic.twitter.com/fhGtcxvrV0

— Certified Pre-Owned Lib (@Bmactara) March 15, 2019
He Needs Love!
muscular monkey needs our love and support he was brought into this world by the creator just absolutely ripped pic.twitter.com/o0n9Z1DIIM

— milk provider (@nahsticks) March 16, 2019
Some of them have commented that the monkey doesn't look amused by being photographed. Well, amused or not, this monkey is sure winning appreciation for its good body. We hope its gives you your dose of Monday Motivation to head to the gym.