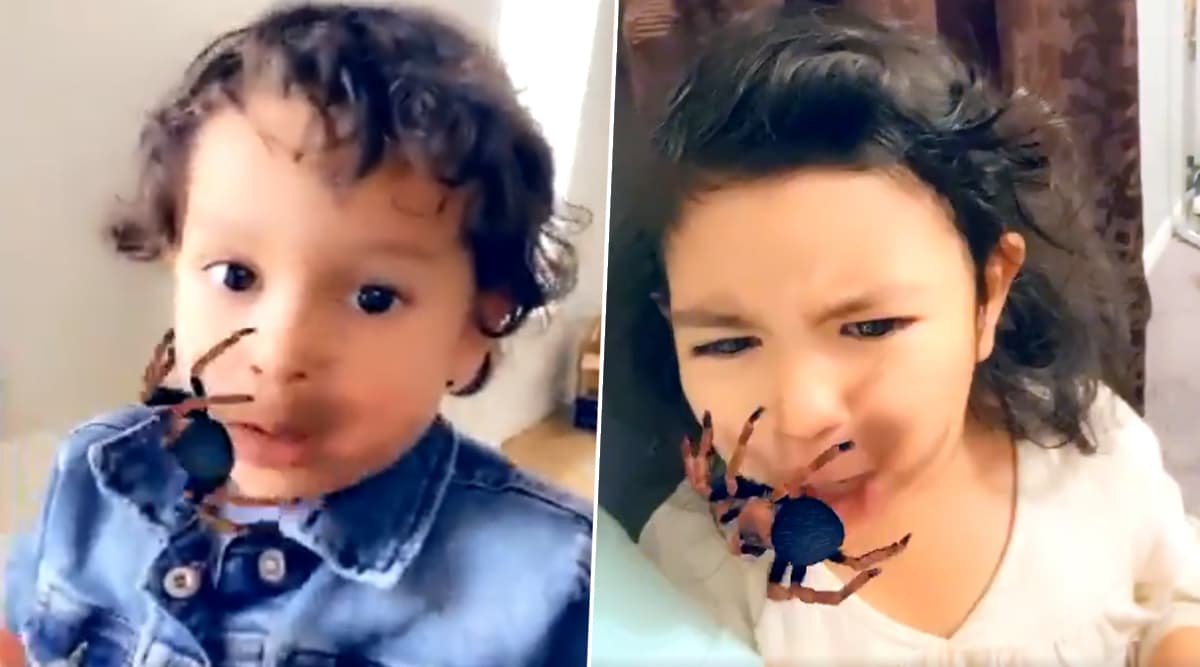 Parents have been using a Snapchat Halloween filter with spider on their children, and the kids are seemingly not happy about it! The spooky festival might be behind us, but apparently, that has not stopped the grownups. Videos of parents filming their kids with spider filters have been going viral. But in many of the clips, the little ones are seen crying hysterically as the tarantula crawls across their faces. From the videos, it seems like the parents are having a laugh at their kids' expense. Twitterati is obviously furious, looking at the kids' terrified expressions. After the videos of the scared toddlers went viral, the internet has been calling out the parents for being so ruthless to their own children. These Videos of Babies Not Recognising Their Dads After Shaving Beard are Adorably Cute. 
Social media platforms are filled with videos of kids getting horrified by the filter. In one of the clips, a toddler can be seen desperately trying to bat the tarantula away, but to no avail. The Halloween-themed Snapchat filter in question overlays digitally rendered 3D spiders on live images of people's faces. That can be fine and good for adults, but not for kids. They will not understand that the spiders are not real. Snapchat Adds Cat Lenses! Now Your Feline Buddy Too Can Wear Fancy Glasses or Toast Hat. 
Watch Video:
So I did the spider filter thing on my daughter and— pic.twitter.com/KQpWsj9Ina

— Thotiana 😈 (@_lakerssnation) November 4, 2019
It Is No Fun for Kids:
I thought this Snapchat filter would be funny to try but in all seriousness PLEASE don't use this on your kids. My son couldn't compose himself after I stopped recording. I had to put him infront of a mirror to convince him that there's no spider! pic.twitter.com/My0t3H6U11

— Jes (@jes_trevino) November 4, 2019
The Snapchat filter has divided the internet. Some believe it is only harmless fun, while others say, it is traumatic for the kids and can have a significant, long-lasting effect on their psyche.
Netizens Are Furious!
Guys that snapchat filter with the spider is not cute,especially when used on kids who are visibly terrified

— Jo_Sbk (@Jo_Seboko) November 4, 2019
No One Likes the Filter:
That spider Snapchat filter is too far. Hate seeing videos of kids screaming scared on my timeline.😩

— Yvonne (@lovey_doveyy) November 4, 2019
Here's Another One Revolting:
Idk who needs to hear this but stop traumatizing your kids with that spider filter on Snapchat

— Beyonce Pad Thai (@Sam_iAM12) November 5, 2019
It is known that the internet has warped our culture and our minds. Parents are often seen purposefully scaring their kids, making light of their distress and posting such moments on social media. While we love watching videos that involve kids, we certainly don't upsetting them for a few laughs.