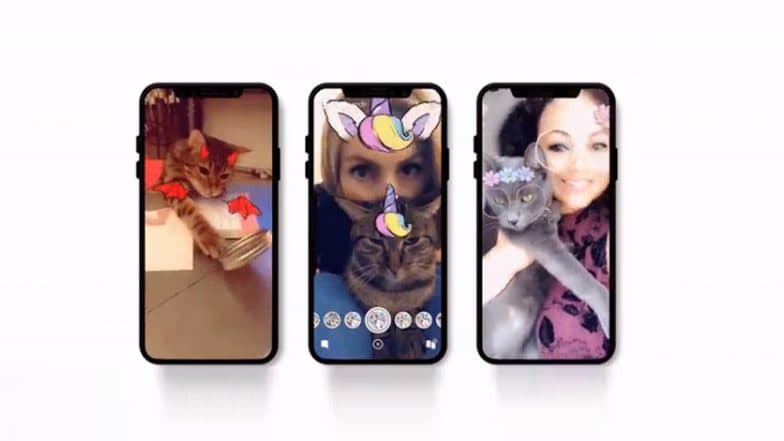 Snapchat is insanely creative. It has fantastic filters to make selfies pop a little extra, which users are never bored of! Every day, many people open the application to see what they can become next. But now, even your feline buddy can be a part of the Snapchat fun. In a recent tweet, the messaging app unveiled new selfie filters—specifically for cats. Yes, now you can make it look like your pet is wearing glasses or give them googly eyes or a toast hat. And even you can include yourself in the photo using matching filters for both of you. New York City Renamed as 'Jewtropolis' on Snapchat Maps by Hackers, Company Fixes 'Vandalism'. 
For the newest update, Snapchat announced on Twitter with the caption, "Lenses. For cool cats and their cool cats Try them meow." Can users keep their calm? As soon as the feature was released, cat lovers had already used the Cat Lenses to snap photos, much before it appeared on news headlines. Naturally, the cats do not seem too amused, but their owners are surely having a great time.
Snapchat Cat lenses for your pet! 
Lenses. For cool cats 😎 and their cool cats 😻 Try them meow. pic.twitter.com/UFJtgt8ZWO

— Snapchat (@Snapchat) October 12, 2018
However, Snapchat has not revealed the reason to focus on cats and not on other animals for its new feature. BBC, on the other hand, reported that the face-recognition filters work for some dogs too. We surely hope that Snapchat would come out with some super cool dog lenses. As of now, let us keep all those speculations away and hover the phone camera in front of the cat's face to create some amazingly adorable snaps.