Move past all the discounted offers by top clothing, apparel and gadgets brands on Indian Independence Day 2018, because very few can match what Pornhub has to offer. Yes, you are reading it right, so go on! Popular pornographic video sharing adult website dropped a special offer on the occasion of 72nd Independence Day of India – Free Subscription of Pornhub.com. Though this 15th August Freedom Day offer is not unlimited but, nevertheless provides one week of free premier access to unlimited XXX videos. Before you get too excited, we would say hold your horses, as Indian government keeps blocking such porn websites time and again as a part of their regulatory exercise, also to crack down on child pornography. Porn Site PornHub Gifts Free Lifetime Membership to Kim Kardashian's Rapper Husband Kanye West.
The largest pornography site on the Internet has a wicked sense of humour. Pornhub who loves playing little mischiefs, in the latest case seems to be playing with fire. Despite knowing very well about India being a traditional nation, where sex continues to be a taboo topic, they decided to poke some fun on one of its national festivals, Independence Day. They changed their website homepage in Tiranga, tri-colours of saffron, white and green. Not just that, Pornhub wished their Indian users with "Jai Hind" message before making the big announcement. Pornhub Announces Free Premium Membership for Women on Period.
Pornhub as a part of Independence Day offer is providing users to watch X-rated videos for free for a week. Yes, no more logging in to quench your thirst, when all you have to do is avail this free subscription of Pornhub.com. We wonder how one would react to the bullish approach of the porn website. Especially, when the Indian government has actually banned these adult websites in the past and were unblocked after a lot of hue and cry. Pornhub Introduces a Free VPN Service to Provide Improved Privacy and Security Benefits for Users.
Comedian Tanmay Bhat shared the 'big news' on his Insta story!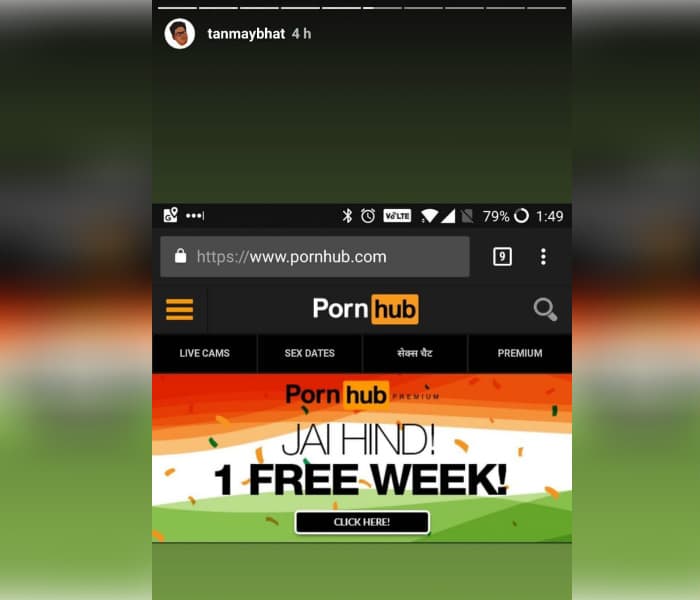 Earlier, Pornhub was in the news for offering Kanye West with free premier membership for life after the American rapper proved himself to be a loyalist of the Canadian pornographic website on Jimmy Kimmel Live! The host had asked Kanye whether his attitude towards women changed after having two daughters, North West and Chicago, with his wife Kim Kardashian, to which the Gold Digger rapper coolly replied, 'Nah, I still look at Pornhub.' Kanye also discussed categories and what kind of stuff he watches on Pornhub. Pornhub Launches New Socks With Porn Stars on Them, They are Not For Your Feet.
Pornhub was quite floored seeing so much of honesty and enthusiasm from Kanye West, and quickly took to their official Twitter handle and write, 'We want to extend our appreciation to a Mr. @kanyewest for his loyalty to us over the years. A gift in the form of a free lifetime premium membership. Here's to you, Ye.' Pornhub knows how to keep the spotlight on them, all the time.