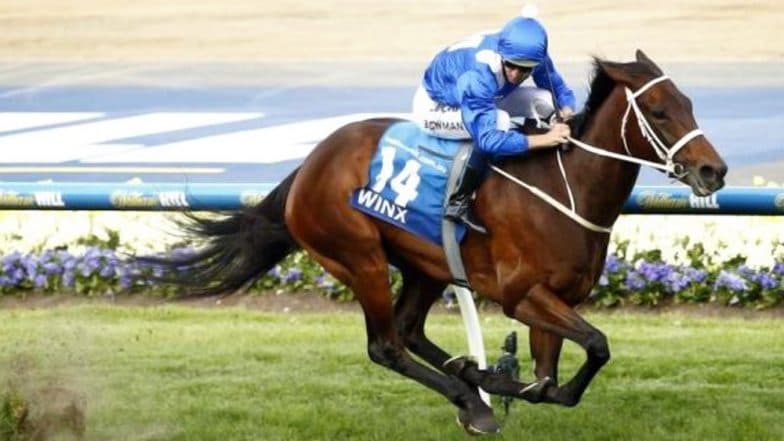 Australia is lacking some good role models in humans. That's a thing too sad to state but they have a champion horse to cover up! This year the reputed title of 'Australian of the Year 2018' goes to a champion thoroughbred Winx. Honoured by the newspaper The Daily Telegraph, a horse is now the ideal role model for Australia. They felt the champion horse was the best one to demonstrate hard work, grit and honesty in the last year. Every January 26, the country celebrates Australia Day. Naming the Australian of the Year is definitely an important highlight of this day. Austrian Man Takes His Horse to Board Federal Railways Train! Pictures Goes Viral.
Just a day before the announcement day, the newspaper has declared this horse as the clear winner. Talking of its achievements, this champion horse has won dozens of races and will retire soon. It was the only one Australian in the entire list of nominees which met the winning criteria for the title. They also mentioned the honour was not "bestowed lightly." The paper said, "Has the nominee lived by the Australian values of fair play and civility?" and mentioned the horse did live up to the required qualities.
This is not the only honour Winx is entitled too. She was also named the World's Best Racehorse in London this year. Winx has remained unbeaten for more than 3 years and has won 29 consecutive races. She also won the 2018 Secretariat Vox Populi Award, the top choice among race fans in a record 60 countries. Winx clearly deserves all the honours including the latest one. Pervert Man Has Sex with Horse, Jailed! Claims the Horse Gave Consent After Winking at Him.
Among the other 8 human nominees were Richard Harris, who worked to rescue 12 Thai kids trapped in a cave last year, multiple medal-winning Paralympian Kurt Fearnley and social activist Bernadette Black. The previous owners of the title were Noble prize winning scientists. Paul Crocodile Dundee" Hogan has also had the honour of receiving this title.