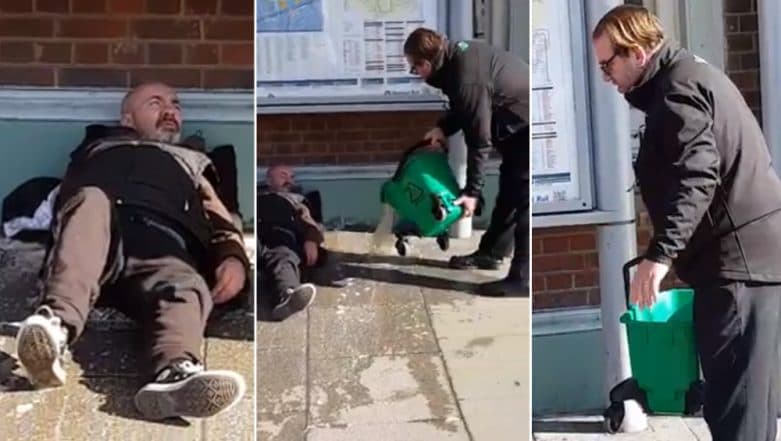 Two railway workers in London have been suspended after a video of them throwing dirty water on a homeless man went viral. The clip shows the men emptying a green bucket near the place where the man is laying. The incident happened at Sutton station in southwest London. It garnered public outrage after it was shared widely on social media. The video shows a man in an orange vest and another in a black coat asking the man to move away from the way.
As the man refuses, they tell him something politely. But with the man continuing to lie there, they pour water all around the man making him sit up. The incident happened in broad daylight as people walk past. The video was recorded by a woman who was passing by. One being asked why she was recording, she can be heard saying that it was 'disgusting behaviour'. Philadelphia Couple Made Up Story About Homeless Man & Allegedly Scammed GoFundMe Donors Out of $400,000.
Watch the video  below:
The video was posted on a public Facebook group with the caption, "This is how Southern fail staff treat another human being in Sutton and I didn't start filming until they had already wacked him with the mop and put even more water on and around him." A bag that contains the man's things can be seen kept beside him, drenched by the water. The woman said that the incident was recorded around 12:30 pm on Sunday. She sent it to Southern Railway with a complaint and has not received a reply from there.
Angie Doll, passenger services director for Southern Railway, told The Independent said the two staff members seen in the video had been suspended and the incident is being investigated. She said, "We take this incident extremely seriously and have started an investigation. We would like to apologise to the homeless man and we are trying to make contact with him to offer help and support."