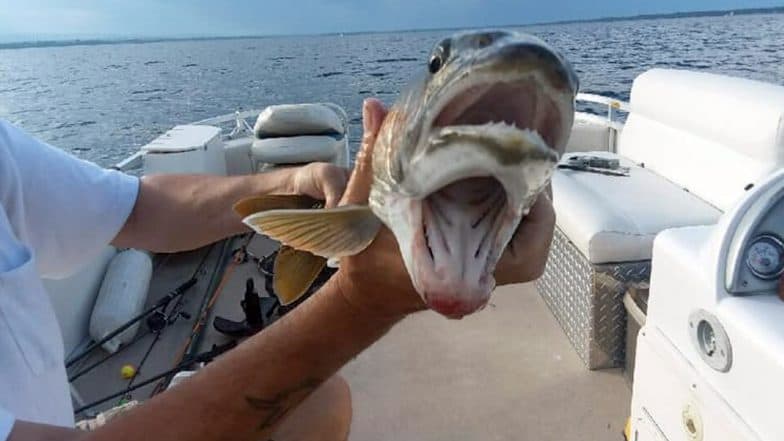 A casual fishing session became a revelation into the mysteries of marine creatures when the angler found a fish with two mouths! Yes, Debbie Geddes went fishing with her husband at Lake Champlain in North America and they caught a species never seen before. Although the couple let the fish go, not before they clicked a picture to show it to the world. The picture of the two-mouthed fish soon went viral on social media. But while amused a few people, others said it was not a literal two-mouthed fish but a cause of an old injury with extended its jaw. Weird Fish With Human Teeth Found on a US Beach; Know More About Sheepshead Fish (Watch Video).
The fish seemed like a  Lake Trout but with two heads. Talking about the discovery Debbie Geddes told NBC News, "It felt heavy this time so I was like this is a good one and got it out." She showed the picture with her co-worker Adam Facteau who then shared it on Facebook. Soon after, he got messages from everyone asking what is the cause of two mouths. Creepy Fish With No Eyes Found in Australia! The Internet is Freaked With The Sea Monster (View Pic).
Check Pic of Fish With Two Mouths:
People commented that it looked more like an injury caused due to catch and release situation. It looks more like a jaw injury which the fish managed to survive. Another user also posted a similar picture but with a smaller hole under the fish's mouth. He mentioned that it was an old hook injury, which left the fish with no lower jaw. This fish also looks like a similar case. While some others mentioned that it is a deformity and there is no such fish with two mouths that actually exists. Well, the marine life is actually quite mysterious with many creatures that even mankind is still not aware of. But this two-faced trout is not among them as per what netizens claim.