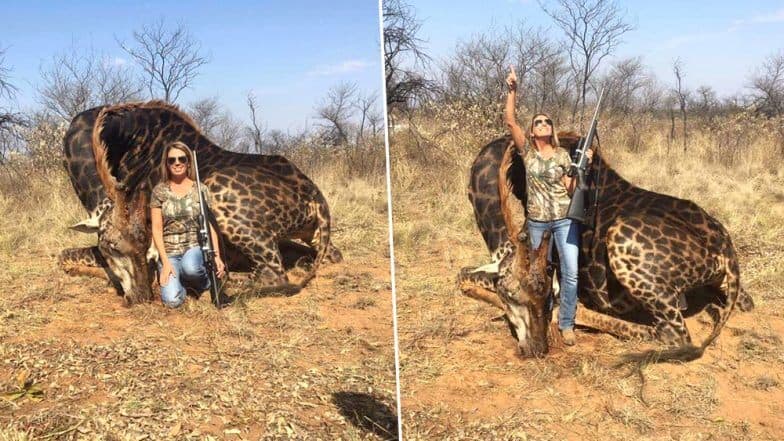 Photo of a female hunter from the United States standing next to a dead giraffe had gone viral sparking outrage on social media. The woman identified as Tess Thompson Talley from Kentucky shot and killed the rare black giraffe in June 2017, however, the pictures went viral in 2018. Following the global outrage the incident, Tess recently said that she is proud of her hobby and continues to hunt. US Female Hunter Trophy Kill 'Rare' Black Giraffe and Sharing Pictures of Her 'Dream Hunt' Sparks Outrage on Social Media.
Tess in an interview with CBS News said that she is "absolutely" still going hunting. She was quoted as saying, "It's a hobby, it's something that I love to do. I am proud to hunt. Referring to the giraffe he hunted down in 2017 which create a furore on social media last year, she said, "And I am proud of that giraffe." She said while she ate the meat of the giraffe, the rest was used to make decorative pillows and gun case describing it as "delicious". Video of Man Hunting Sleeping Lion Goes Viral, Social Media Users Condemn 'Cowardly' Act of Trophy Hunting.
Talley's photos with the dead giraffe went viral in June 2018 after the Twitter account Africa Digest tweeted the pictures. The tweet read, "White American savage who is partly a Neanderthal comes to Africa and shoot down a very rare black giraffe courtesy of South Africa stupidity. Her name is Tess Thompson Talley. Please share." US Trophy Hunter Pays Pakistan Rs 77 Lakh to Kill Rare Himalayan Goat Markhor, Says it Helps Conservation!
Here is the tweet:
White american savage who is partly a neanderthal comes to Africa and shoot down a very rare black giraffe coutrsey of South Africa stupidity. Her name is Tess Thompson Talley. Please share pic.twitter.com/hSK93DOOaz

— AfricaDigest (@africlandpost) June 16, 2018
Tess says the hunting trip which caused uproar was actually part of conversation efforts to manage wildlife in a particular area. While she is not a conservationist herself, she does her part. She said if her hunting wasn't contributing for the conservation of wildlife, she wouldn't do it herself. She also tried clarifying that posing with the hunt is part of a hunting tradition. Giraffes May Be The Next Specie To Be Endangered If Humans Do Not Take Immediate Steps.
She further says, "Everybody thinks that the easiest part is pulling the trigger. And it's not. That's the hardest part. But you gain so much respect, and so much appreciation for that animal because you know what that animal is going through. They are put here for us. We harvest them, we eat them." Giraffe Parts on Sale! 40,000 Products Approximately Worth 4,000 Giraffe Deaths Have Been Imported Legally in US.
Talking about the giraffe she killed, Tess earlier told Fox News, "The giraffe I hunted was the South African sub-species of giraffe. The numbers of this sub-species are actually increasing due, in part, to hunters and conservation efforts paid for in large part by big game hunting. The breed is not rare in any way other than it was very old. Giraffes get darker with age." She also said that giraffe was 18 years old and had already killed three bulls.
While trophy hunting has been one of the most controversial topics on the internet leading to various talks and debates, it remains legal in countries. Trophy hunting is a legal practice in many African countries, including South Africa, Namibia, Zambia and Zimbabwe.