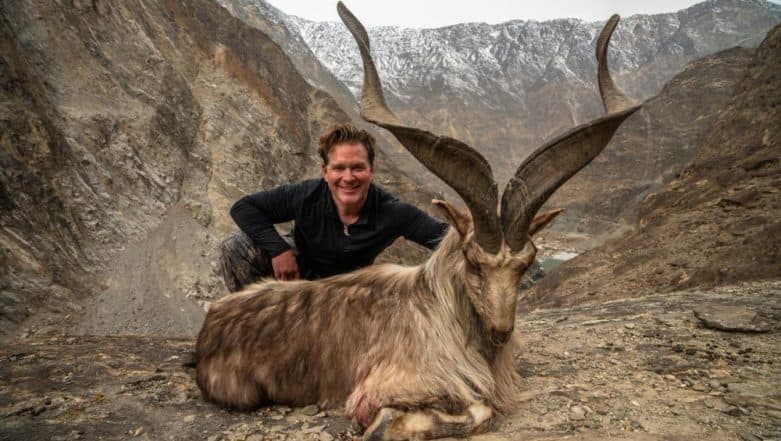 An American paid USD 110,000 (Rs 77,77,550) to the Pakistan government to hunt a rare Himalayan goat Markhor. Trophy hunter Bryan Kinsel Harlan obtained a permit to kill the magnificent looking creature which lives in the Gilgit-Baltistan region of the northern Himalayas. However, while the incident has resulted in outrage among animal rights activists, the incident is claimed to be helping reduce poaching of Pakistan's national animal.
Photo of Harlan from Texas posing with the screw-horn goat has gone viral on social media. Pakistani press quoted him as saying, "It was an easy and close shot. I am pleased to take this trophy." Harlan is the third American who travelled to Pakistan to kill a Markhor. Pakistani officials and conservation groups are of the opinion this hunting helped the species from possible extinction as it de-incentivises poaching. US Female Hunter Trophy Kill 'Rare' Black Giraffe and Sharing Pictures of Her 'Dream Hunt' Sparks Outrage on Social Media.
Here is the photo of Harlan with the rare Himalayan goat:
US citizen #BryanHarlan who hunted an AstoreMarkhor few days ago at GB has said that Pakistan is more peaceful country than Mexico. if govt of Pak govt could put some investment in to tourism sector they could do great for this beautiful country.

Thank you #BryanKinselHarlan pic.twitter.com/91rd3rjghZ

— Tanveer Ahmed (@Mountain_Man007) February 7, 2019
While Pakistan made local hunting of animals illegal, the country lets foreign hunters with permit kill 12 male goats per season. According to the authorities, around eighty percent of the fees go to local communities where the markhors live and the rest to the Pakistani wildlife agencies. A YouTube video of the hunt shows the man hunting a markhor making it jump. He then kills and posed with the corpse. Former Hockey Player Tim Brent Receives Death Threats for Posting Photos of His Bear Hunt.
Watch the video below:
According to 2011 reports, there were only 2,500 markhors left in the wild due to deforestation, poaching and military actions. However, by 2015, the population increased and the US classified the markhor as 'threatened' from being 'endangered'. The conservation group Green Global Travel called the markhor population increase 'one of the world's little-known conversation success stories'. According to a report in The Washington Post Tabarak Ullah, a Pakistani hunter who has been a guide to Harlan and other Americans said that they not only hunt but promote conservation and also help local communities thus increasing tourism.