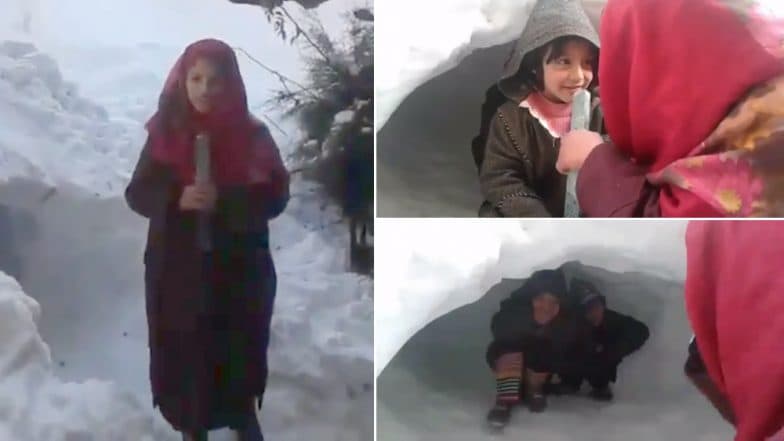 Snow has laid a white carpet everywhere in Kashmir. Everything from housetops, trees, roads, vehicles have layers of snow above them. And as the valley continues to witness snowfall coupled with cold waves, funny video of Kashmiri girl enjoying the weather is going viral. The video shows a young girl posing to be a journalist reporting about the snowfall.
The adorable clip of the girl posing to be a weather reporter detailing whereabouts of the snow-laden valley is sure to leave you smiling. Holding a wooden ruler as mike, she talks about how children made a snow tunnel (which looks like an igloo) as they were tired of studying. She also makes the cameraperson pan camera into the ice cave where two young children can be seen sitting. She tilts the mike (wooden scale) towards them asking about their inspiration to build it. Pictures of Frozen Dal Lake in Srinagar and Snowfall in Manali Makes Us Want to Rush to the Hills This Holiday Season!
A Twitter user shared the video of the girl who is from Shopian in Kashmir. Her smartness and childish nature seem to have impressed everyone on social media. Most people commented on the saying how adorable she looked while reported. We wonder if wants to take up reporting as a profession because she looks quite promising at it. Snowfall in Delhi? Twitterati Share Unbelievable Pictures and Videos After Latest Hailstorm.
Watch the video below to believe:
A schoolgirl from #Shopian is reporting about snowfall. Watch this aspiring journalist's report. #kashmir pic.twitter.com/QSKYAopZ6h

— Fahad Shah (@pzfahad) February 8, 2019
A lot of them said that she can make a good TV journalist and is talented enough. We wonder what the girl has to say about the social media fame she just achieved. We would also like to know if she wants to be a journalist as a grown up.
Last Sunday, Srinagar recorded minus 3.4 degrees Celsius, while Pahalgam was at minus 8.0 degree. and Gulmarg at minus 10.0 degree. Most of the water taps have frozen and people lit small fires around the pipes to defrost them. Leh recorded minus 6.6 degrees Celsius and Kargil minus 21.0. Drass town was coldest with minus 21.5 degrees Celsius.