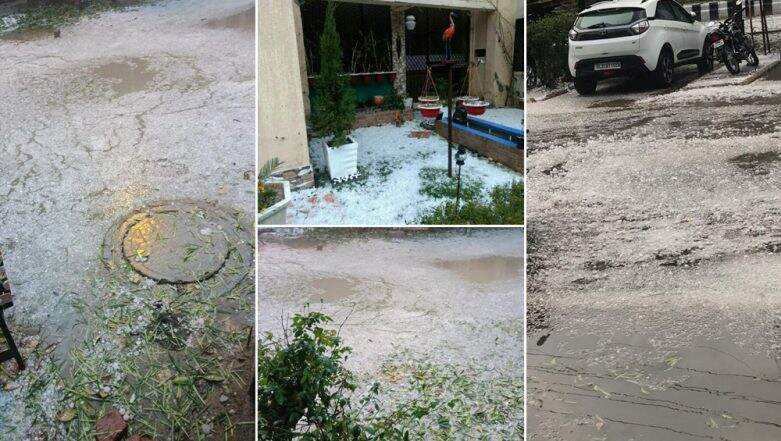 The weather has gone haywire in Northern India. Delhi saw a spell of hailstorm today and it has turned the national capital looking it just snowed. Snowfall was predicted in Himachal Pradesh and Uttarakhand but Delhi was lashed with a severe hailstorm. Within a few minutes, the area around Noida and Faridabad turned white. And no sooner, pictures of the place were shared on social media, wondering if there was an actual snowfall in Delhi. Hailstorm, Heavy Rains Lash Delhi NCR, Punjab, Haryana; Snowfall In Jammu & Kashmir, Himachal; See Pics And Videos.
Up north, Jammu and Kashmir also experienced heavy snowfall which continued till late night. Heavy rainfall and hailstones hit the plains including Punjab and Delhi NCR. Pictures and videos of the roads covered in hailstones looked just like it had freshly snowed in the areas. Soon #DelhiSnow became a trend with more and more dreamy pictures being uploaded. North India Shivers as Rain, Hailstorm Lash Delhi-NCR, Haryana, Punjab; Heavy Snowfall in Himachal, Uttarakhand, J&K (See Pics & Videos).
Check Pictures and Videos of 'Delhi Snow' Shared After the Hailstorm
Snowscapes?
Heavy snow fall in Delhi pic.twitter.com/Hj8TGoU9V3

— Manoj kumaar (@Kumaarmanoj1122) February 7, 2019
Dreamy Snowfall 
This is scary and yet gorgeous! Massive #hailstorm in Noida. My parking is a blanket of snow. Technically snowed out #delhincr What weather Delhi! pic.twitter.com/kxKNSoVsjO

— Griha Atul (@grihaatul) February 7, 2019
Delhi Has Swiss Mode On
Not Switzerland or Newyork...This is Delhi..

#hailstorm #DelhiRains pic.twitter.com/BidgcS8iU8

— Raajeev Chopra (@Raajeev_romi) February 7, 2019
Or is it Manali?
It is not looking me less than Manali. #delhirains pic.twitter.com/AKJ7wZ6GVa

— Amit Gupta (@amitkajalva) February 7, 2019
This is Unbelievable!
Wah ! Is it Snow fall ?? no no, Ice fall ??😜😛 | Actually it's Rain, hailstorm in Delhi. All across social media #ItsViral #DelhiRains Pic: #SouthDelhi pic.twitter.com/AzmapXG8aH

— Sidheswar(Sid) Misra (@msidheswar) February 7, 2019
Driving through Snow covered routes
There is a full blown hailstorm in #Delhi right now, with snow and slush on the roads. This in a city that has till now been described as having a mix of monsoon-influenced humid subtropical and semi-arid climate. #ClimateChangeIsRealpic.twitter.com/Dz7tATjarY

— Jaideep Gupte (@JaiGupte) February 7, 2019
Forget Kashmir, Go to Delhi
So we finally declare that all those who went to Mukteshwar or Kashmir to enjoy Snowfall have wasted their money. Delhi and NCR are having some fun. Look at these pictures from ....ahem ahem not Mussorie or Shimla but Noida. Chill !! #DelhiRains #Weather #Noida #ओले pic.twitter.com/u8v4LlTWgM

— Zafar Abbas (@zafarabbaszaidi) February 7, 2019
Aren't the pictures and videos giving a look of an actual snowfall? No wonder everyone's amused and all excited. Although it may look all pleasant at first, it points out to the grave dangers of climate change that has taken over the entire world.