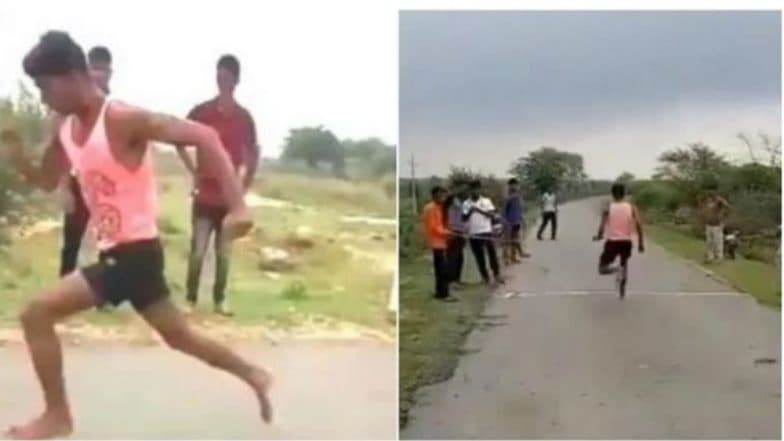 A 19-year-old sprinter names Rameshwar Gurjar is the latest Internet sensation and has caught the attention of social media. The youngster in the video was seen running barefoot and ran the 100-meter lap in just about 11 seconds. However, there is no official proof of the youngster clocking 11 seconds as the seconds could only be gauged from the length of the video. But the intensity he ran with was quite commendable. His skills even impressed the Minister of State of the Ministry of Youth Affairs and Sports Kiren Rijiju who promised to arrange training for the youngster. Kiren Rijiju Promises Greener Stadiums, Academies.
It was the Chief Minister Shivraj Singh Chouhan who shared the video of the youngster on Friday night. "India is blessed with talented individuals. Provided with right opportunity & right platform, they'll come out with flying colours to create history! Urge @IndiaSports Min. @KirenRijiju ji to extend support to this aspiring athlete to advance his skills!" – he wrote. Kiren Rijiju responded to the tweet and promised that he would arrange a training facility for the 19-year-old.
Pls ask someone to bring him to me @ChouhanShivraj ji. I'll arrange to put him at an athletic academy. https://t.co/VywndKm3xZ

— Kiren Rijiju (@KirenRijiju) August 16, 2019
Government Assured Rameshwar Gurjar for Good Training 
MP:19-year-old Rameshwar Gurjar from Shivpuri Dist.,who was seen in a viral video sprinting barefoot 100 mtrs in 11 seconds,says,"I've been preparing for 4-5 yrs.I want to win a medal for the country.Govt has assured me of good training facilities.I won't break the govt's trust." pic.twitter.com/cu8CvMWczB

— ANI (@ANI) August 17, 2019
Earlier, Madhya Pradesh sports minister Jitu Patwari had reacted to the video by saying, "With proper training and gear, he can complete 100 metres in 9 seconds." The minister had also invited Gurjar to state capital Bhopal. Talking about the current record, the 100-metre national record is held by Amiya Mallick, who has a timing of 10.26 seconds. The current world record is 9.58 seconds, set by Usain Bolt.