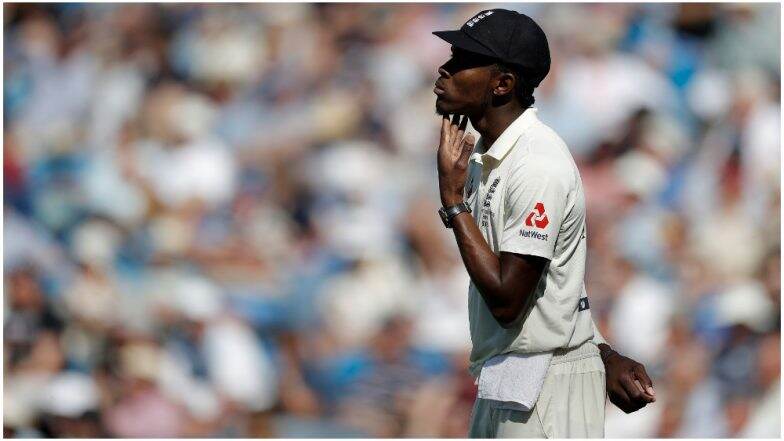 Jofra Archer knew it. He knew Ben Stokes could do it. He knew that just two matches into his Test career, Archer will witness the best run-chase Ashes has seen in a long long time. Archer had almost six-years ago predicted that Stokes – just weeks after guiding England to its maiden World Cup triumph – would play another nerve-wracking inning.  The 24-year-old had revisited his twitter past and dig out two more predictions he had called correctly. Ashes 2019, 3rd Test Match Report: Ben Stokes Stars as England Beat Australia by One Wicket to Win Third Test at Headingley.
Stokes played a mighty knock at Headingley. England had lost hopes first after bundled for a shambolic 67. Again after the home side went nine-wickets down with 79 runs still to get. The Ashes was going back to Australia. Everyone was ready. but Stokes wasn't. Just 45 days after singlehandedly dragging England in CWC 2019 final against New Zealand, Stokes was at it again.  This time it was not just two singles to glory, but sixes and boundaries to single-handedly drag England to a one-wicket victory in the 3rd Test at Leeds and keep them alive in the five-match Ashes Test series.
"Well played Stokes," Archer had tweeted on a sunny morning in December 2013. Perhaps Archer was referring to the Ashes Test of 2013. Stokes hit a similar century albeit in a losing cause in that game, which was also a third Ashes Test at Perth. But such was the resemblance of Archer's tweet that it popped up immediately after Stokes' marvellous – and perhaps his best in Tests till date –innings. Sensational Ben Stokes Single-Handedly Drags England to Victory in 3rd Ashes 2019 Test; Twitter Bows Down to Another Majestic Innings From their 'Hero'.
Jofra Archer Predicted Ben Stokes Will Play
👏🏾👏🏾👏🏾👏🏾👏🏾👏🏾 https://t.co/Yhal47ylXi

— Jofra Archer (@JofraArcher) August 25, 2019
Stokes' majestic innings of 135 from 219 deliveries – 75 off which came in the final 42 deliveries – comprised of 11 fours and eight sixes. He was involved in a 76-run stand with last English batsman Jack Leach, who scored 1 off 17, as England kept themselves and the Ashes alive.
This wasn't, however, the only prediction Archer had made in 2013. "Best run chase," I have seen in my life, Archer had said on October 16, 2013. It proved correct six years later when Stokes smashed Pat Cummins through the covers for a boundary to complete a miraculous script for his side.
Archer Predicted The Best Run-Chase Ever
👏🏾👏🏾👏🏾👏🏾👏🏾👏🏾 https://t.co/Wei6Nn4dWN

— Jofra Archer (@JofraArcher) August 25, 2019
Again Stokes may have referred to India's famous ODI victory at home on the very day Archer tweeted about the chase. India chased a record 350 runs with almost seven overs to spare in an ODI against Australia with their top-three (Rohit Sharma, Shikhar Dhawan and Virat Kohli) leading India to a famous victory.
But you never know with Archer. Like the beamers that surprise batsman, Archer has been surprising the world with predictions since the ICC World Cup 2019. Meanwhile, Archer continued his meteoric rise in English cricket with a maiden six-wicket haul against Australia in the opening innings of the third Test. He took two more wickets and hit a quick-fire 15 playing his part in leading England to their famous Ashes win.