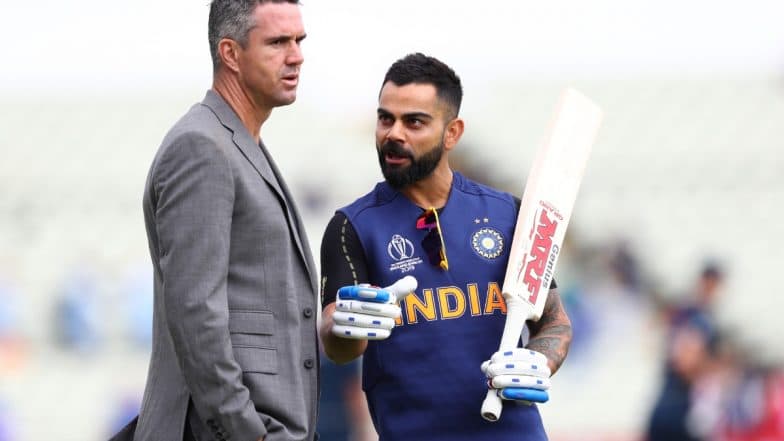 Kevin Pietersen continued his cheeky banter with Indian cricketers only that this time it wasn't Yuvraj Singh but Indian skipper Virat Kohli. Pietersen's reply to a tweet from Kohli left fans in splits, with many confused at what the former England international intended on saying in his reply. Others, however, applauded Pietersen for taking a dig at himself and praised the England batsman's own cover drive as well as his "pull" which to most fans was the best they have seen in the cricket field. Pietersen in his reply trolled himself by saying that unlike Kohli, his cover drive passed through the mid-wicket region. Virat Kohli 31st Birthday Special: A Look at Records Held by India's Batting Sensation.
"A good cover drive is therapeutic," Kohli, who has been rested from the India vs Bangladesh three-match T20I series, had captioned a tweet, which had a wonderful picture of the 30-year-old playing a cover drive. Pietersen hilariously replied to the post and said: "I think all my cover drives went through mid-wicket!" Virat Kohli, MS Dhoni and Rohit Sharma Top The list of Most Searched Cricket Players On Internet Globally.
The Difference Between Virat Kohli and Kevin Pietersen's Cover Drive
I think all my cover drives went through mid-wicket!

— Kevin Pietersen🦏 (@KP24) November 1, 2019
The former England batsman was trolling himself as balls – when batsmen play a cover drive shot – usually travel through the covers on the offside when a cover drive is hit, while mid-wicket is on the leg side. Pietersen was probably saying that most of his cover drive shots were mistimed shots. Virat Kohli Is Comfortable in His Own Skin, Says ICC Umpire of the Year Simon Taufel.
Ball Changed Direction
I think Ball Change Direction After Cover Drive !! 😂 pic.twitter.com/0x68bbGuBQ

— Sumit Chaturvedi (@sumitmonss) November 1, 2019
Kevin Pietersen's Slog Sweeps Were Unbelievable
And your slog sweeps used to fly over cover 🙂🙂 pic.twitter.com/7qrXV5ftA5

— vikash kumar (@vikash23kumar) November 1, 2019
Pietersen's Switch Hits Were Awsome
Your trademark flamingo whip thru mid wicket is 🔥👌 and switch hit are awesome 😍

— 💝 (@GillxViratian) November 1, 2019
You Weren't Bad Either
you weren't that bad a batter kp 😉

— Kartikey Tomer (@kartikey_tomer) November 1, 2019
Everyone Enjoyed Those Switch Hits
I absolutely enjoyed watching you hit the pull through the covers.

— Amogh Chaphalkar (@chaphya) November 1, 2019
But irrespective of what he intended to say, the 39-year-old former cricketers earned himself praises from the fans for his humble reply. Many praised Pietersen for his cricketing shots and picked up his 'switch hits' as the best in cricket. The South Africa-born England batsman represented his country in 104 Test matches, 136 ODIs and 37 Twenty20 internationals and was also part of the T20I World Cup-winning England team in 2009.
Meanwhile, Kohli, who a day later would celebrate his 31st birthday, has been rested from the T20I series against Bangladesh but will be back for the two-match Test series, starting November 14, 2019. The Indian skipper was pictured vacationing with his wife Anushka Sharma in Bhutan.