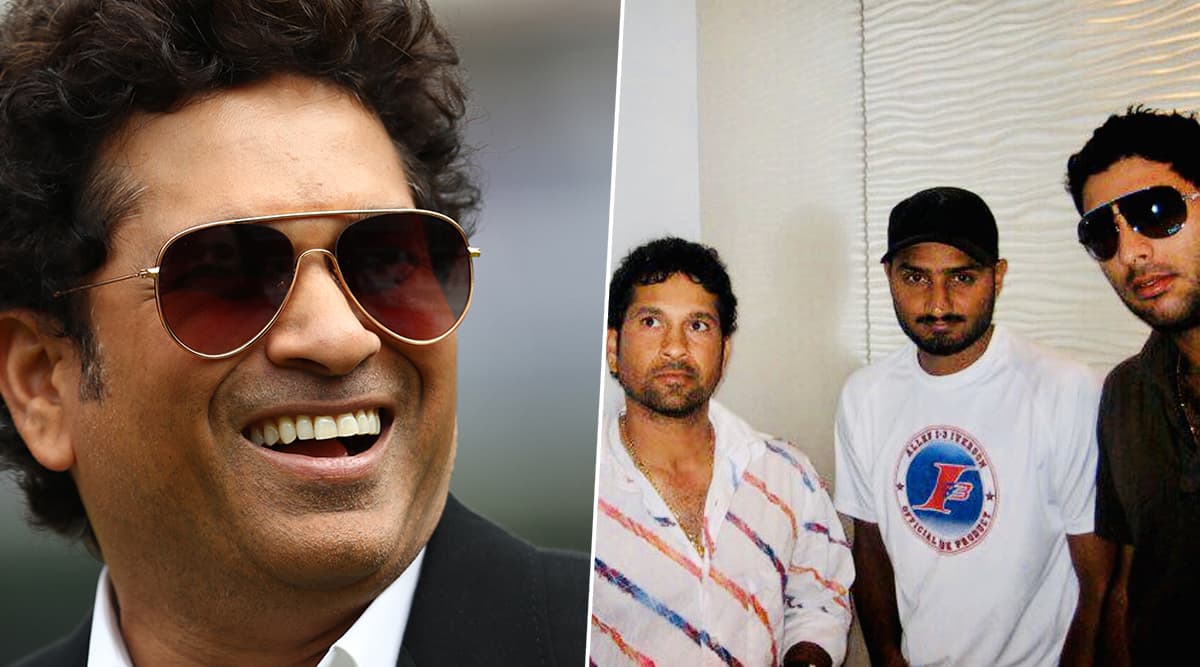 Other than India vs South Africa 3rd Test, Sachin Tendulkar also became a trending talking point on social media on Saturday due to one of his funny comments on Twitter. The master blaster took a dig at former Indian cricketer Yuvraj Singh for wearing glasses while being indoors. Later, Twitterati were amused to witness Sachin sharing such a humorous tweet on Twitter. Responding to the tweet, many jokingly wondered if Virender Sehwag was handling Sachin's Twitter account. Sehwag is known to share humourous and funny tweets on Twitter. Sachin Tendulkar Welcomes ICC's Super Over Rule Change. 
Firstly, Harbhajan Singh on Friday shared a throwback photo of himself with Sachin and Yuvraj on his Twitter account. Commenting on the same, Yuvraj asked Sachin to check his glasses. Later, Sachin asked him why he is even wearing glasses (chashma) when they are standing indoors. "Why are you wearing a chashma indoors? Yahan toh yUVi rays bhi nahi hai..", Sachin wrote. Twitterati were amused to see such a wordplay by the 46-year-old cricket legend on Twitter. Some users asked Virender Sehwag if he was using Sachin's account. Have a look at some of the tweets over Sachin's tweet below. This Day That Year: When Sachin Tendulkar Went Past Brian Lara to Become Leading Run-Scorer in Test Cricket.
Is This Virender Sehwag!
Sachin paaji aap @virendersehwag jaisi baatein kab se karne lage

Mast 👌🏼

— Dr.D.K.Dwivedi (@drdwivedi333) October 19, 2019
Veeru for Sachin?
@virendersehwag why are you handling @sachin_rt account?😂

— Bot*exe☯️ (@Botexe7) October 19, 2019
Cricket God Tweets!
Hahahaha love you god

— R A T N I $ H (@iLoyalSachinFan) October 19, 2019
Superb Reply!
@DilSeDravid @karandalvi5 @dhaval_pitkar @BaachaBaachi @mihirajmera6695 @tracer_bullet_ 😐😐 kaun handle kar raha hai Sachin ka account

— Anubhav Sanghai (@ASanghai) October 19, 2019
HAHAHA!
because @YUVSTRONG12 having so much of S(eh)WAG @virendersehwag. . . . .

— Boomer (@urzBoomeR) October 19, 2019
Sachin is quite active on Twitter and he regularly shares posts for his fans. He always wishes his fans on festivals and congratulates cricketers on their retirement and achievements. He also tweets about trending cricket events. However, his tweets are mostly official in nature. This was a new experience for cricket fans and Twitter users who saw Sachin posting a funny tweet.
People also hailed Sachin for such an epic reply on the photo. Sachin, Yuvraj and Harbhajan played many matches for India together. The trio were part of World Cup 2011 in which India won the trophy. While Sachin has retired from all forms of cricket, Yuvraj recently retired from Indian cricket. However, he is active in foreign domestic leagues. Harbhajan is active in IPL tournaments. He played for Chennai Super Kings in IPL 2019.