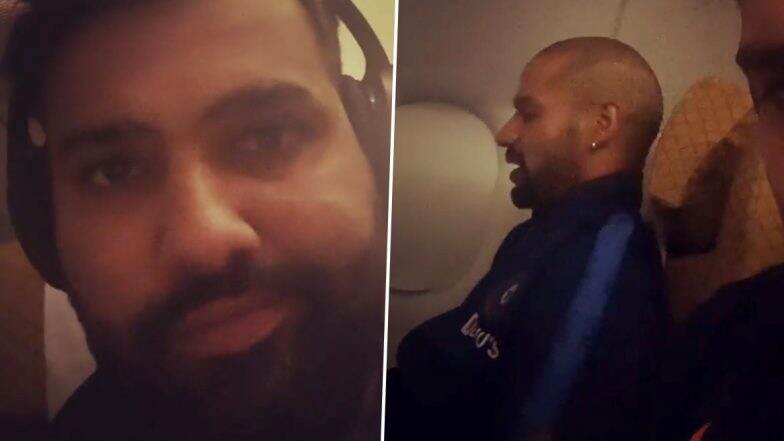 Rohit Sharma and Shikhar Dhawan have a great eye-coordination between themselves. The Indian opening batting duo, have always shown great understanding between each other when opening the batting for India and have often been shown talking to each other through eye glances during matches. But talking to oneself? Yes, Rohit caught his opening partner, Dhawan, talking to himself while travelling in the flight. That wasn't just it. Dhawan can even be seen smiling and nodding his head in agreement as he continued talking to himself, in a short video clip shared by his Indian teammate and opening batting partner Rohit, on Instagram. Shikhar Dhawan Posts Hilarious Video From Flight, Calls Rohit Sharma & Ravindra Jadeja 'The Loving And Caring Fathers' (Watch Video).
From what could be perceived, Dhawan and Rohit were possibly travelling in a flight along with the rest of their Indian teammates. The India team was possibly travelling from Mohali to Bengaluru where they face South Africa in the third and final game of a three-match T20I series. India beat South Africa by seven wickets – and an over to spare – in the second T20I game at Mohali to take an unassailable 1-0 lead. The first game in Dharamsala was abandoned without even the toss taking place. Virat Kohli Posts Throwback Photo From Teenage Days, Netizens Troll Indian Skipper With Funny Memes and Hilarious Tweets!
Shikhar Dhawan Talks to Himself
Meanwhile, in the short clip shared by Rohit, Dhawan can be seen smiling and talking to himself. "No no he isn't talking to me!" Rohit Sharma captioned the post. "And he's too old to have an imaginary friend." In the minute-long video, Dhawan, 35, is seen comfortably seated in his seat and has his eyes closed as he murmurs something to himself and starts smiling. The murmuring soon changes to the left-handed batsman talking to himself. He even nods his head in approval to something he might have told himself.
Shikhar Dhawan Replies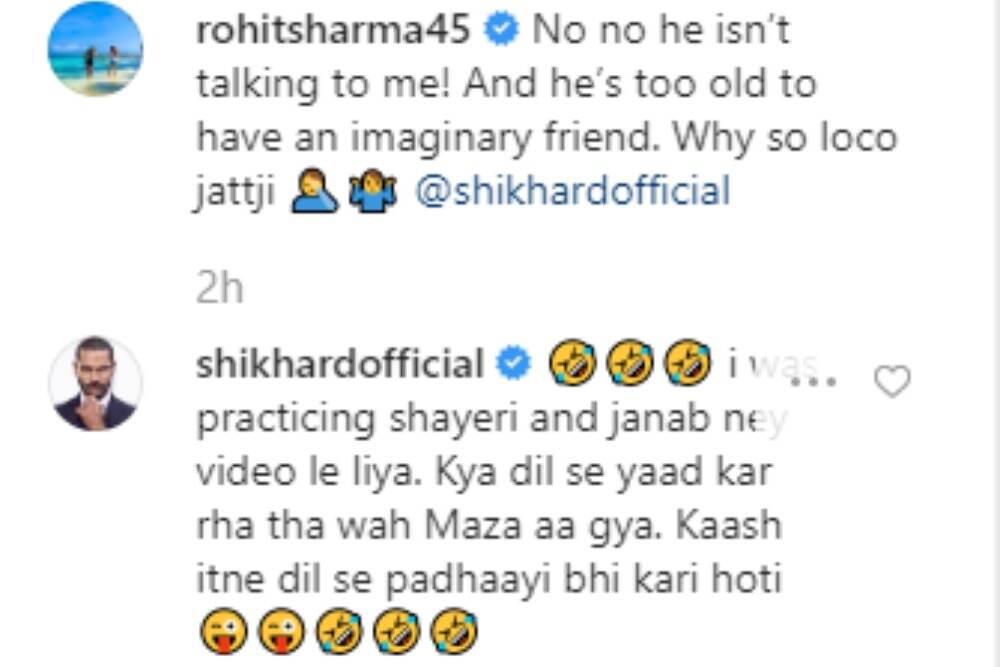 Dhawan later clarified that he wasn't actually talking to himself but was rehearsing/practising a "Shayari" while sitting in the flight. "I was practising Shayari and janab ney video le liya. Kya dil se yaad kar rha tha wah Maza aa gya. Kaash itne dil se padhaayi bhi kari hoti (I was practising Shayari and this man clicked the video. It was coming directly from the heart. Wish I had studied with the same passion).
The 35-year-old has been in terrific form in limited-overs cricket. He guided India to victory over Australia in ICC Cricket World Cup 2019 before a thumb fracture ruled him out of CWC 2019. But the left-hander is back with a bang post the injury. He was involved in a 60-run stand with skipper Virat Kohli (72) in the second T20I game against South Africa and was only out to a terrific David Miller catch after scoring 40 runs.