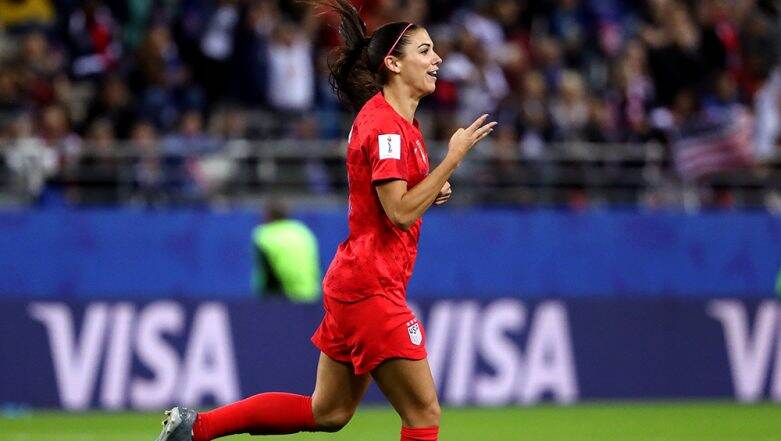 USA Women's Football Team Co-Captain Alex Morgan's tea-sipping gesture during the USA vs ENG match in FIFA Women's World Cup 2019 has sparked outrage and is being widely discussed on social media and other platforms. Morgan has finally explained her reason behind the 'tea-celebration' gesture. USA vs England, FIFA 2019 Women's World Cup Semifinal Highlights: Alex Morgan Delight After Stepping Up for USA in Megan Rapinoe Absence.
The co-captain said that she was merely trying to emulate her fellow player Megan Rapinoe when she pulled the tea-drinking celebration. Morgan headed a Lindsey Horan's cross in the 31st minute to score the winning goal and help the US win 2-1 against England in front of more than 53,000 fans. FIFA Women's World Cup 2019: From Teams to Schedule And Venues, All You Need to Know About the Football Mega Event.
The Jill Ellis coached team has been dominant as ever in the FIFA Women's World Cup 2019 but have also come under criticism from several quarter for being "arrogant."
"I wanted to keep it interesting. I know Megan Rapinoe has the best celebration. I had to try and step up this game," Morgan was quoted as saying.
She also tweeted saying, "This team is special. Thanks for the bday love. Thanks for the rocking stadium. Thanks for continuing to believe with us. And that's the tea."
After the match, Morgan said, "Obviously I have a greater role being a captain on this team and leading this team in a different way so for me it's just so great," she added.
"I just saw all my teammates being so emotional after the game. We have put so much into this journey together and now we have one more game to close it out."