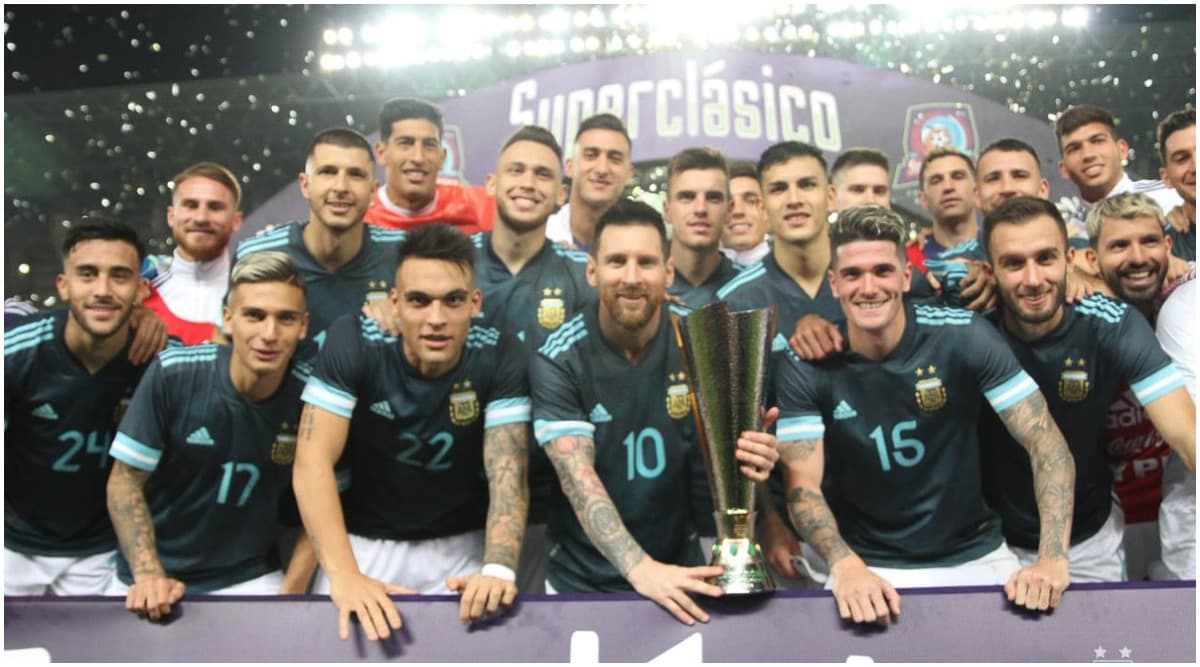 You could look on Lionel Messi's delighted face and tell what an international trophy meant for him and the Argentina football team. La Albiceleste celebrated the Superclasico de las Americas win over Brazil, paraded the King Saud University Stadium flaunting the trophy – which unfortunately have been Argentina's only source for an international trophy in the last two years. But who cares? Ask Messi fans, they don't. Messi have been chastised for his failure to win any international trophy with Argentina at a time when trophies have come in galore with club FC Barcelona and Cristiano Ronaldo has led Portugal to two international tournament wins. And therefore the 1-0 win against South American rivals Brazil was welcoming for Messi and Argentina. Netizens were relieved on seeing their footballing hero lifting an international trophy in Argentine colours and soon started comparing it Ronaldo's Euro and Nation's League victories with Portugal. Lionel Messi Rebound Penalty Goal Leads Argentina to Win Over Brazil.
Interestingly, this isn't the first time Messi has lifted an international trophy – albeit in a one-match friendly tournament – with Argentina. In 2017, Argentina beat Brazil by the same margin to win the Superclasico de las Americas. The one-match international tournament was played in Australia that year with Messi captaining Argentina – just like he did in Saudi Arabia on November 15, 2019 (Friday). Gabriel Mercado scored that day to guide Argentina to a 1-0 win over Brazil and lead the team to their first international "friendly" trophy since 2003. Argentina's last competitive international trophy came in 1993 when they won the Copa America.
Argentina Beat Brazil to Win Superclasico de las Americas Trophy
#SelecciónMayor 📸 Postales del festejo Albiceleste.#VamosArgentina 🇦🇷 pic.twitter.com/pD9xzBWUhJ

— Selección Argentina 🇦🇷 (@Argentina) November 15, 2019
Leo Messi Has an International Trophy With Argentina
View this post on Instagram
Since then La Albiceleste have lost the 2014 World Cup finals, were beaten in the Copa America finals in 2004, 2007, 2015 and 2016 and finished runner-up in the 2005 FIFA Confederations Cup. And Messi frenzy fans, who have lived through the pain of all those heart-breaking final defeats, were delighted to see the king lift a trophy – although an international friendly one – with Argentina.
Lionel Messi Scores the Winner
Messi scores the winner as Argentina beat Brazil 1-0 on his return to international football. pic.twitter.com/LR20iVjM0L

— Sundar S (@sundarleo_4) November 15, 2019
Finally an International Trophy for Lionel Messi
Finally Messi won a trophy with Argentina 😍 #Superclasico #Messi pic.twitter.com/GeFJFh0JcP

— Viking⚓️ 🇱🇰🇮🇳️ (@RawishkaT) November 16, 2019
Messi Wins an International Trophy
Finally #Messi 🏆 pic.twitter.com/Ne7G0IT8WJ

— Fianso (@FiansoMed) November 15, 2019
Ballon d'Or Fight Reignited
A goal is a goal, either its a penalty or an acrobatic kick from the midfield.

An international cup has no fake or original #Messi for balon d'or pic.twitter.com/tZ389m8eTZ

— Aw'Bee (@AwBeeOfficial) November 16, 2019
Messi and Ronaldo
If this was #Ronaldo then the media would claim an international trophy...

Well.. #Messi and another international trophy🎉🏆 pic.twitter.com/GksMOi7gs5

— OmarTM🔴 (@umartmjr) November 15, 2019
There is Messi's International Trophy
Brazil 0-1 Argentina. Messi winner.... there's your international trophy 😉 pic.twitter.com/oQh06CxTmt

— Dean Brett (@DeanBrett62) November 15, 2019
Excited Argentines Finally!!
Look how excited all of them are. 😎 #Messi pic.twitter.com/rlnF4l76UD

— A B H I S H E K ❎ (@im_abhi49) November 16, 2019
Happiest Day in Messi's Life
Today is the one of the most happiest moment in his life. #Messi pic.twitter.com/pucG69lI90

— Mr Eloquent (@jrcharismatic) November 15, 2019
Well, That Hurt!!
Messi fans have their first feeling of an international trophy, what we feel on a regular#Messi pic.twitter.com/Ats3ZEzCPO

— iamemeka (@chukwuemekakan3) November 16, 2019
International Friendly Trophy
They gave Messi an international trophy for winning 1 friendly game in Saudi Arabia lmaooooo how cute 🥺😂😂

— Danny (@Derny_) November 16, 2019
Meanwhile, Messi marked his return to the national team after serving a three-month ban with the winning goal from a penalty rebound as Argentina beat Brazil 1-0 to win the trophy in Saudi Arabia. It was Messi's 69th international goal and took him past Germany legend – and 1974 World Cup winner – Gerd Muller and Robbie Keane. Fans rejoiced on seeing Messi return to the Argentina team especially after rumours went rife that might announce international retirement after Copa America heart-break.
Fans compared the Superclasico de las Americas to the two trophies Ronaldo had won with Portugal with many even claiming that both trophies were similar in terms with stature and status. Ronaldo won the 20186 Euro Cup with Portugal beating hosts France 1-0 to left his maiden trophy with Portugal before doubling the trophy tally with the Nations League victory against earlier this year. Portugal beat Netherlands 1-0, courtesy a Goncalo Guedes goal, to win the inaugural edition of the Nations League.