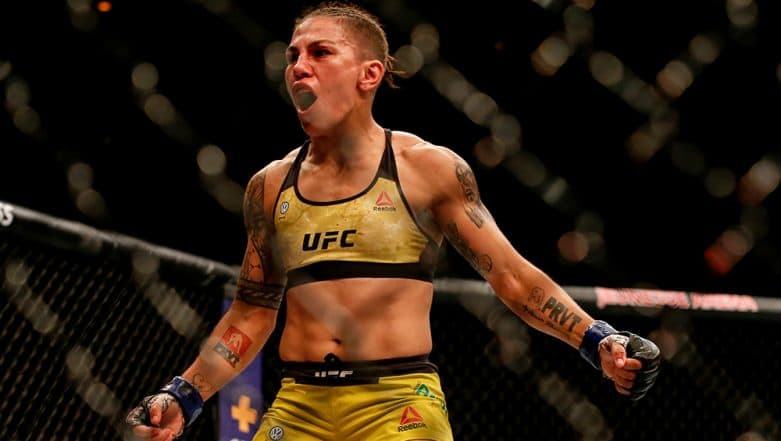 Jessica Andrade became the new Women's Strawweight champion after knocking out Rose Namajunas at UFC 237. Andrade was initially dominated in the first round by Rose. The main event took place this past Saturday (May 12, 2019) in Brazil. Let us see what all happened in the match and how does the Brazilian wrestler made to victory. UFC Fighter Polyana Viana Bloodies Man's Face After He Tries to Rob Her Phone in Brazil.
After losing the opportunity to capitalise in the first round, Andrade came back strong in the second round as she pressed Rose against the cage fence before lifting her up in the air. When 'The Thug Rose' tried to double wrist lock the Brazillian, she got slammed onto the back of her head in that process by Andrade. The impact knocked the defending champion out on contact.
The official referee of that match Marc Goddard recognized that Namajunas was knocked out by that slam by Andrade which lead to the end of that match in 2:58 of the second round. The win improves Andrade's record to 20-6, as Namajunas mark dips to 8-4.
Until this knockout slam, 'Thug Rose' seems to have had an upper hand on Jessica Andrade. Her loss all of a sudden by knockout indeed shocked her fans who were well confident of her victory.
Jessica Andrade giving Rose to Namajunas!!!!
We've arrived at the #UFC237 headliner! Who leaves with strawweight gold as champ @RoseNamajunas takes on challenger Jessica Andrade (@jessicammapro) in the main event?

Full play-by-play: https://t.co/GmiyaAbfoX pic.twitter.com/F7arZQyOxp

— MMA Junkie (@MMAjunkie) May 12, 2019
UFC ask questions to fan after Andrade's victory!!!
So, who's next for the champ?

— UFC (@ufc) May 12, 2019
When Rose regained consciousness after getting slammed by new women's strawweight champion Andrade she took the microphone and appreciated the Brazillian fans for supporting her.  She then mentioned in a post-match presentation,'It's just a huge pressure off my shoulders'.