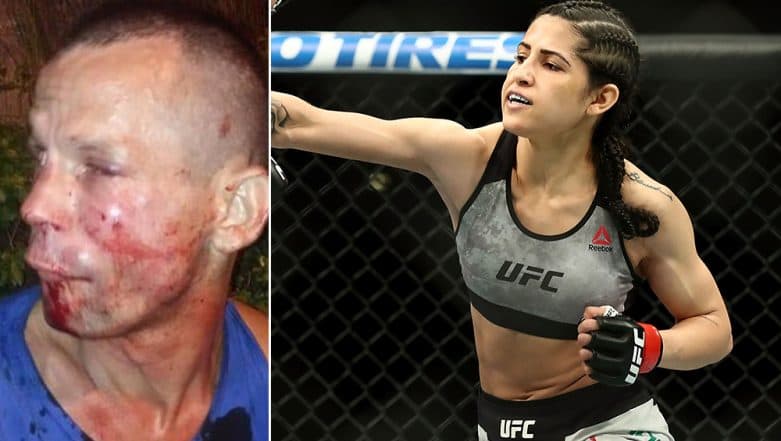 Little did the man who tried to rob a woman waiting for an Uber cab on Saturday night at 8 pm knew it would be Polyana Viana. Ultimate Fighting Championship (UFC) strawweight was in no mood to let go of the miscreant. As soon he tried to snatch away her phone, she responded with punches, a kick and "rear-naked choke". She then made him sit down and wait for the police.
Mixed martial arts (MMA) fighter told media that the man used a fake gun to steal her phone. Viana who is nicknamed 'the Iron Lady' gave it back to the man in a way he never expected. According to Viana, she was waiting in front of her apartment complex in Jacarepagua, in the West Zone of Rio de Janeiro when a man approached her. She said she noticed his presence as he came too close to her.
Narrating the incident, Viana told MMA Junkie, "When he saw I saw him, he sat next to me. He asked me the time, I said it, and I saw he wasn't going to leave. So I already moved to put my cell phone in my waist. And then he said, 'Give me the phone. Don't try to react, because I'm armed.' Then he put his hand over (a gun), but I realized it was too soft."
UFC president Dana White applauded Viana and shared an image of the fighter alongside the man's bloodied photo on social media:
She continues saying, "He was really close to me. So I thought, 'If it's a gun, he won't have time to draw it.' So I stood up. I threw two punches and a kick. He fell, then I caught him in a rear-naked choke. Then I sat him down in the same place we were before and said, 'Now we'll wait for the police.'" The 26-year-old has a 10-2 MMA record and is known for finishing off her opponents quite quickly.
After punching the man, Viana said she kept him pinned and asked passers-by to call the police. Cops then took the man to a medical facility to treat his wounds and later to the police station. She also filed a report.