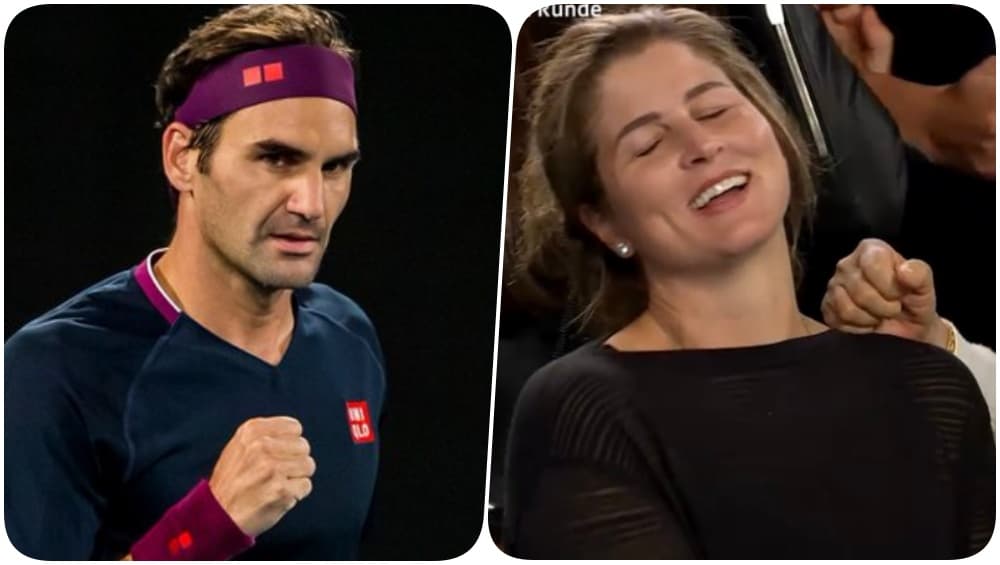 Roger Federer earlier today had an intense battle against John Millman in the Australian Open 2020. The Swiss ace might have walked away with the last laugh as he won the game 4-6, 7-6, 6-4, 4-6, 7-6 against the local boy but there were many moments where the results swung like a pendulum. Like all his fans, Roger Federer's wife Mirika who was a part of the audience was also stressed out. Mirika's expressions changed in every set but in the end she was quite happy with her husband's win. Roger Federer won his 100th Australian Open game. Australian Open 2020: Roger Federer Wins Five-set Thriller Against John Millman, Advances to 4th Round. 
The netizens kept a track of all her expressions and posted them on social media. Just like the fans, she also was seen cheering and then sat back patiently on her chair when her husband lost a point. Very often do we see Mirika taking pictures and videos of Roger Federer moments on the court. After Federer won the game, she quickly went to meet her husband and hugged him. Check out a few moments below:
All you need after a hard fought win...! #Federer & #Mirka #AusOpen pic.twitter.com/k4ZxS9W5id

— Gopal (@gopal2709) January 24, 2020
Mirika's all of us
Mirka is all of us 😂 #Federer #AusOpen pic.twitter.com/xvjPgQKHbA

— Nush 🌸 (@LazyLadyDoctor) January 24, 2020
Another one
Be a tennis wife, they said. It will be fun and non-stressful, they said. ♥️ Mirka, we get you. #Federer #AusOpen pic.twitter.com/GqHvyiPW7X

— •Han• (@Tazzie_D) January 24, 2020
After that tiebreaker
#Federer fans after that tiebreak pic.twitter.com/vo7Rg3qgr6

— R3ed Alrashid (@R3ed_0) January 24, 2020
After the match, Roger Federer said, "And I felt the roar was big when he won his 7th point in the breaker. People must have thought it was over. But, no, I mean, look, in a funny way, I'm okay with all four endings because they all have a reason to end the way they do. I don't know what it is." Federer will meet Márton Fucsovics in the fourth round of the Australian Open 2020.