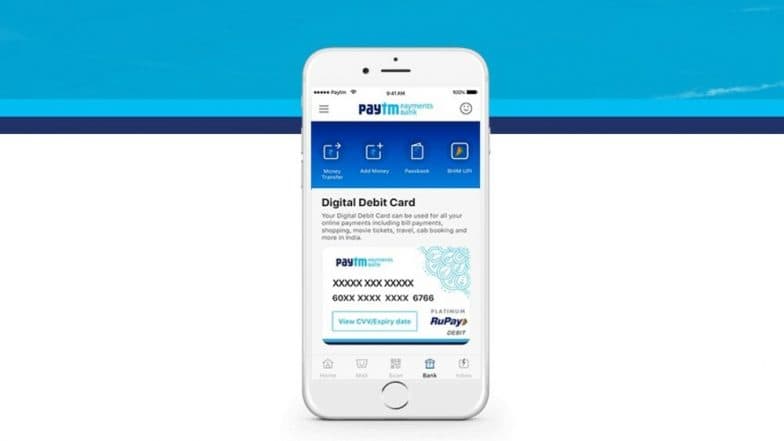 New Delhi, March 14: The Indian online payment system and digital wallet company Paytm launched a separate mobile application for Paytm Payments Bank for secure mobile banking services. The mobile app will let the user check their account balance, request for a physical debit card, access digital debit card and many more. Additionally, the user can also get 24/7 support from the bank via the mobile banking app. Paytm Mall's Loss Widens 150 Times in FY18 After Increase in Advertising Expenses.
The app has been launched in Google Play Store, while it's yet to launch in the Apple App Store. The Fin-tech giant launched in 2017 has over 43 million saving accounts and issued more than 2 million physical debit cards. The mobile banking services have also given a virtual debit card to all 43 million account holders. #BoycottPaytm: Alibaba Funded Paytm Receives Flak After China Shields Masood Azhar, Netizens Call for Boycott of Payment App.
Addressing on the launch, Satish Kumar Gupta, MD and CEO of Paytm Payments Bank said, "The new app has been introduced exclusively for its bank's customers to provide a wide range of banking services in a phased manner. The purpose of a new app is to segregate its operations from the existing app which caters to customers of several group entities. However, PPB customers will continue to serve its customers on its older app should its customers desire so. Both apps will co-exist."
Savings account in Paytm Payments Bank offers various benefits like no minimum balance, free digital transactions, 4 per cent interest per annum in savings account, free digital debit card, 8 per cent interest on fixed deposits and more. Paytm also allows its customers to enable or disable the debit card by just single click in the application.