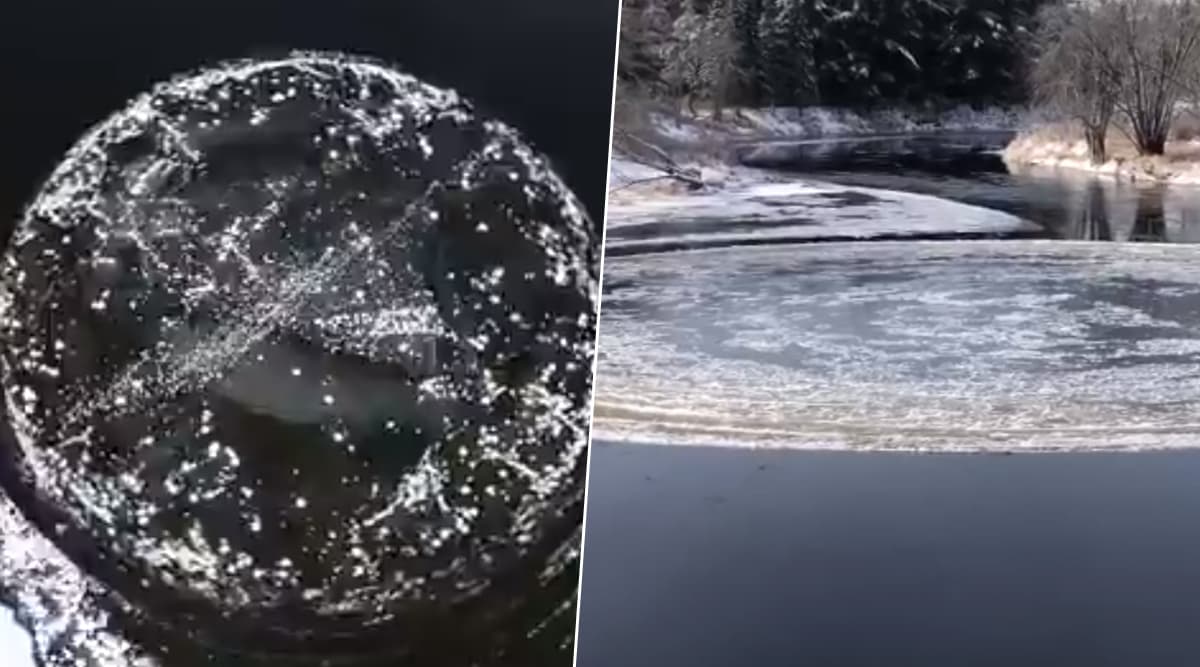 It is time for the winter season and it means the snowing is going to get heavy. Nature takes its own course and one of the rare phenomenon seen during the season is ice discs. Circular sheets of thin ice are seen floating in the river waters at Maine and China. Because of the flow of the water, they spin around. It is a spectacular sight and videos of the same from two different locations have come up online. These videos are from Haynesville in Northern Maine and Genhe River in Mongolia, China. When looked from the top, it looks like there's a moon on Earth. 'Ice Eggs' Cover Finland Beach! Over Thousands of Tiny Snowballs Formed Due to Rare Weather Phenomenon (Check Viral Pics).
Ice discs are formed in a river because of the force of the water which breaks a piece of ice and eventually twists it around. When the disc rotates because of the water flow, it turns into a smooth circle. As the winter season begins, similar discs have started appearing in different parts. People are sharing videos of the strange natural phenomenon on social media. The ice disc in Northern China's Genhe river is huge and since the video is taken from a drone, the view is just spectacular. Aliens Here or The Moon is on Earth? Giant Spinning Ice Disc Seen in US' Maine River Sparks Theories (Watch Video).
Watch Video of Huge Ice Disc in China's Genhe River:
This ice disc is about 2 meters in diameter and was seen slowly rotating by the bank of the Root River. This region is also called as China's cold pole.
Here's Another View of the Same Ice Disc:
An ice disc formed in the Genhe River in Hulunbuir, Manchuria. The ice disc is about 2 meters in diameter, and rotating slowly counterclockwise. This is an all natural phenomenon, just rare. pic.twitter.com/oJF5m3LC7M

— Augustus Manchurius Borealis (@1984to1776) November 9, 2019
This occurrence has been observed in Maine's Mattawamkeag River too. Although it wasn't as large as the one in China, the disc was slowly spinning here.
Watch The Video of Ice Disc in Maine's River:
An ice disk in Haynesville as captured by TV5 viewer Chris Gooley pic.twitter.com/Jq7OilQ8Hp

— WABI_TV5 (@WABI_TV5) November 14, 2019
For those who do not know about this natural phenomenon can spark some spooky theories or conspiracy angles. That's exactly what happened when a large ice disc was seen in Maine at the start of the year. Some netizens were predicting if the aliens were here!