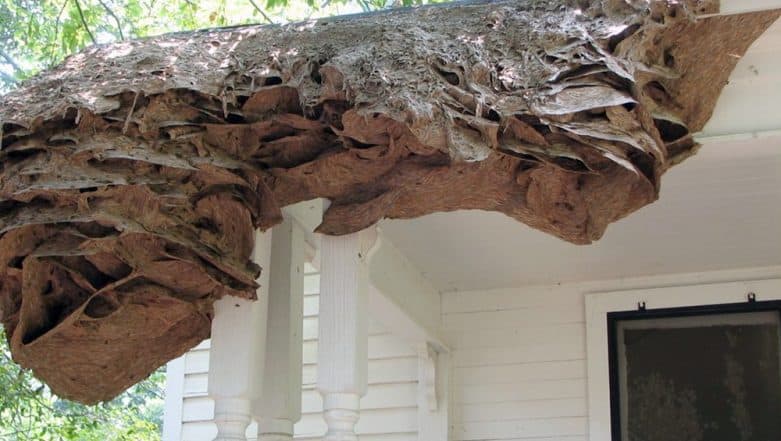 People in Alabama are warned about giant wasps nests that are coming over the state. A similar phenomenon was seen more than a decade ago in 2006, when a colony of 15,000 yellow jackets built nests the size of a Volkswagen Beetle. And entomologist working with The Alabama Cooperative Extension System issued a warning after they discovered massive 'super nests' here in the month of May. Spider Explosion in Greek Town of Aitoliko Has Coated Everything in a 1,000-Foot Web (Watch Video).
Charles Ray, an entomologist said that in 2019 there may be a similar situation as in the year 2006. "We confirmed two nests in May and have indications of a third," he said. In the year 2006, the first giant nests were spotted on June 13, so this year it is several weeks earlier. "These perennial nests may be several feet wide and have many thousands of workers, far more than an average nest. We have found them attached to home exteriors and other places you might not expect to find yellow jackets." Ray mentioned.
Here's a Pic of a Massive Wasp Nest in Alabama:
Biggest wasp nest!!!!!!!!!!!!!! pic.twitter.com/XaEGcuaoj1

— D (@Dariell46248890) June 30, 2019
A yellow jacket nest is found in the ground or in some cavity.  It has about 4,000 to 5,000 workers which may not survive the winter. The queen wasps disperse and form new colonies in the season. But because of the changes in the weather now, with milder winters these wasp colonies can survive for a longer duration. There is also an abundant food supply so they stay longer. In such a case, a super nest may have not one but multiple queens. This is called a perennial yellow jacket nest. Wasp That Converts Spiders Into Zombies Discovered! Know About This Dangerous Parasite.
The stings of yellow jacket wasps have also resulted in deaths in the US.  The entomologist said that Alabama could see a number of super nests this year since they have already spotted few now. Ray also warned that people should not touch these nests or try to remove it on their own. They should contact a licensed pest controller.