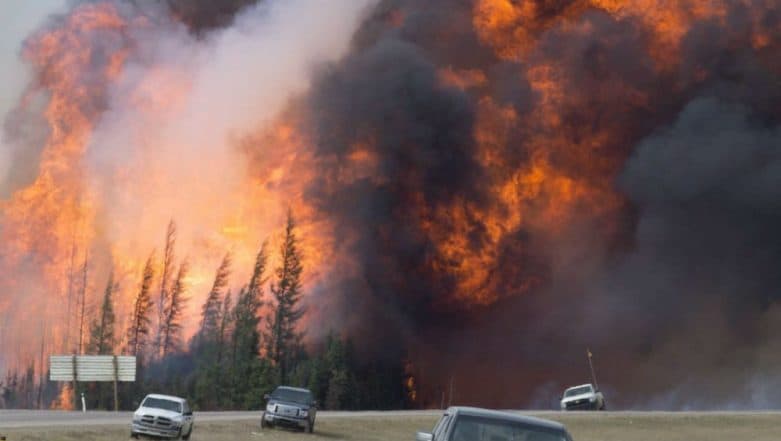 California, November 18: The death toll in the raging California wildfires, rose to 76, as five more sets of human remains were found during the ongoing rescue operations. United States President Donald Trump, who undertook a visit to the state, to survey the damage, oversaw the operations by rescue and fire teams on Saturday. He was accompanied by California Governor Jerry Brown and Governor-elect Gavin Newsom, CNN reported. "We're all going to work together and we'll do a real job, but this is very sad to see," Trump said.
The massive blaze, US's deadliest and most destructive wildfires to ever strike California, has ravaged over 9,800 homes and torched 149,000 acres since it began on November 8 at Camp Fire in northern California. Till Saturday evening, the fire was 55 per cent contained. There is a list of missing people, comprising almost 1,300 names. Officials have hoped that they would be able to trace those people in the coming days. Three deaths were reported from Woolsey Fire in Southern California, which has now decimated about 836 structures in Los Angeles and Ventura counties, California Fire said. California Wildfire: US President Donald Trump Set to Visit As Missing Toll Rises to 600.
Over 98,000 acres have been scorched since the blaze began. It was 82 per cent contained as of Saturday morning, the fire agency said. Air quality in California has plummeted, with The New York Times reporting that the state faced worst air conditions than China and India as thick smog engulfed not only in Paradise and Malibu but distant San Francisco as well. The raging wildfires caused large-scale destruction forcing hundreds of thousands of Californian residents to abandon their homes and escape, including Hollywood celebrities like Lady Gaga and Miley Cyrus.