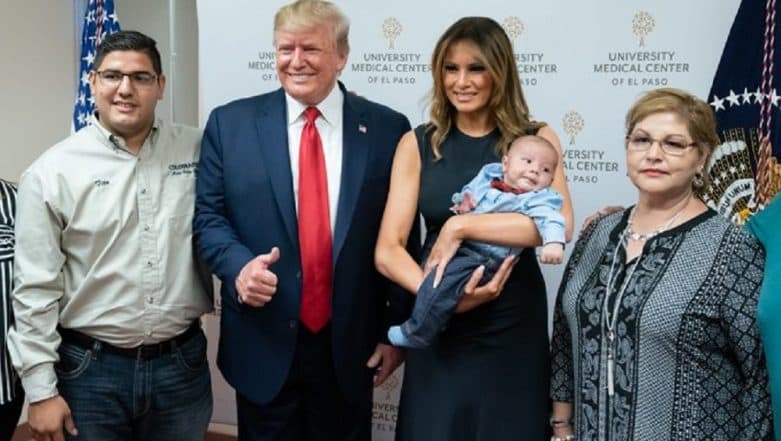 Washington, August 10: US President Donald Trump, accompanied by his wife and First Lady Melania visited El Paso following a mass shooting in the border town that claimed the lives of 22 people. After his visit to El Paso, a picture surfaced in which Donald Trump and Melania are seen smiling broadly while holding a baby who was orphaned in the mass shooting. Trump also flashed a thumbs-up with the baby.
The controversial picture was shared by Melania on Twitter. The baby, identified as Paul, lost his parents in the shooting. The two-year-old was injured, breaking his fingers, in the shooting. As Trump and Melania were scheduled to visit Del Sol medical centre in El Paso, Paul, who was discharged, was brought back at the hospital reportedly on the request of the White House. According to reports, the baby's father was a Trump supporter. Donald Trump Tweets 'Looking Forward to Seeing Kim in Not Too Distant Future', a Day After Receiving 'Beautiful Letter' From North Korean Leader.
During the visit, a photo op was conducted. President Trump, who is flanked by the baby's uncle, gave a thumbs up while posing with the child. Melania, who was holding the baby, had a broad smile on her face. The picture didn't go well many who saw Trump and Melania's expressions "insensitive". The image, which went viral, prompted outrage on social media. Protesters Chant as Trump Visits Dayton, El Paso.
Melania Trump's tweet and reactions:
I met many incredible people in Dayton, Ohio & El Paso, Texas yesterday. Their communities are strong and unbreakable. @potus and I stand with you! pic.twitter.com/SHzV6zcVKR

— Melania Trump (@FLOTUS) August 8, 2019
This is a photo of Trump grinning while Melania holds a baby orphaned by the shooting. A baby who was taken from home and forced to serve as a prop at a photo-op for the very monster whose hate killed her/his parents.

I would need 280,000 characters to say how furious I am. pic.twitter.com/4umSc9BQHu

— Greg Pinelo (@gregpinelo) August 9, 2019
I am genuinely confused and horrified by this image. Am I taking this the wrong way?

Why is Trump and Melania posing, GRINNING, and giving a thumbs up with the infant who's parents were murdered by the shooter in El Paso.

Seriously… WTH is going on? pic.twitter.com/0YA2hIQeP3

— Bryan William Jones (@BWJones) August 9, 2019
The baby's uncle, standing next to Donald Trump for the picture, is reportedly a Trump supporter. Speaking to NPR, the uncle, Tito Anchondo, said: "I think people are misconstruing President Trump's ideas. My brother was very supportive of Trump." Notably, the White House aides had not allowed media into the hospital during the visit, saying it was "not a photo op".