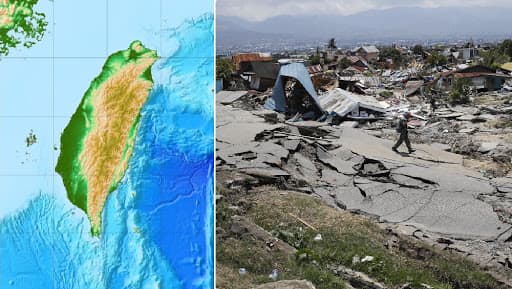 Taipei, April 18: Taiwan's Hualien County on Thursday hit with a strong earthquake of magnitude 6.1 on Richter scale, said Central Weather Bureau. The quake was so powerful that building in Taipei shook and people were seen taking shelter in safe places. According to the initial reports, the epicentre of the temblor was 10.6 kilometres northwest of Hualien County Hall at a shallow depth of 18.8 kilometres.
As per to the report, published by Taiwan Times, the intensity of earthquake measured a 7 on Taiwan's 7-tier intensity scale in Hualien County and a 5 Nantou County, Yilan County, Taichung City, and New Taipei City. The intensity was 4 at Taoyuan City, Hsingchu County, Miaoli County, Changhua County, and Taipei City, while in Chiayi County, Hsinchu City, Yunlin County, Taitung County, Keelung City, and Chiayi City, the intensity was 3. The intensity gauges the actual effect of a temblor. Earthquake in Uttarakhand: Tremors Felt in Uttarkashi Region's Barkot Town, No Casualties Reported.  
Here's the Tweet:
Breaking News: Magnitude 6.1 #earthquake strikes eastern #Taiwan https://t.co/673cOH7MeD pic.twitter.com/2ukrj4S4Kq

— Taiwan News (@TaiwanNews886) April 18, 2019
The Central Weather Bureau also informed that the intensity of 2 was felt in Kaohsiung City, Tainan City, and Penghu County, while a lesser intensity level of 1 was felt in Pingtung County. It is to be known that Taiwan uses an intensity scale of 1 to 7 as it is located along the so-called Pacific Ring of Fire. With the earthquake in place, all MRT trains in Taipei have temporarily come to a halt as a safety precaution.