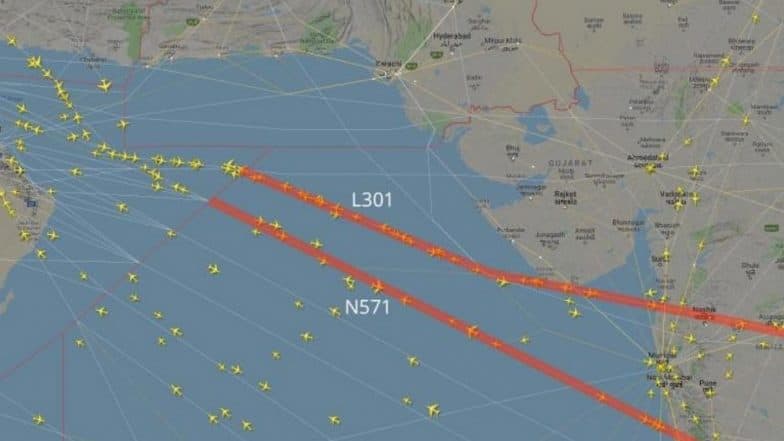 Toronto, March 1: An almost immediate consequence of the India-Pakistan aerial engagement was felt by air passengers – domestic and international – who faced a slew of cancelled flights due to the closure of air space in both countries. While India re-opened its airspace sometime in the afternoon of February 27, Pakistan said its airspace would only be opened on March 1.
More than 800 flights use the Indian and Pakistani air space to ferry passengers from South Asia, South East Asia to Europe and North America. Read: Indian Air Force Presents Evidence To Expose Pakistan Lies on Use of F-16 Jets
A website that tracks flights, flightradar24.com, showed Singapore Airlines, Finnair, British Airways, Aeroflot, and Air India had to reroute their flights over the Arabian Sea to avoid flying over Pakistan's air space.
Thai Airways canceled 27 flights on Wednesday and Thursday, mostly to and from Europe, because they had been scheduled to fly over Pakistani airspace. Nearly 5,000 passengers were left stranded in Thailand. Flights to and from London, Munich, Paris, Brussels, Milan, Vienna, Stockholm, Zurich, Copenhagen, Oslo, Frankfurt and Rome were among those affected. Thailand is one of the world's most popular tourist destinations, receiving more than 38 million visitors last year.
Malaysia Airlines too said on its website it would not currently fly over the affected airspace and was avoiding Pakistan and northern Indian airspace for flights to and from Europe until further notice.
Meanwhile airlines from Gulf countries such as Emirates, Qatar Airways, Etihad, flydubai, Gulf Air, and other airlines like SriLankan Airlines, and Air Canada on Wednesday suspended services to Pakistan and some parts of India. Air Canada's Toronto-Mumbai flight which was enroute to India was called back and passengers were put onto other flights. The Canadian airline also temporarily suspended its direct flight to Delhi and Mumbai before announcing their resumption from Thursday.
Qatar Airways said in a statement it has temporarily suspended flights to eight cities in India and Pakistan "due to the ongoing situation on the India-Pakistan border" and that its flights routed over the India-Pakistan airspace may be delayed due to rerouting in the area.
Saudi Airlines also suspended all flights to Pakistan "until further notice". In Russia, two flights from Moscow to Vietnam and St. Petersburg to Thailand had to turn back to Russia while a Bangkok-bound flight had to land in Uzbekistan.
The tense situation between the two countries has hence impacted thousands of people who have no connection to the countries or the ongoing conflict.