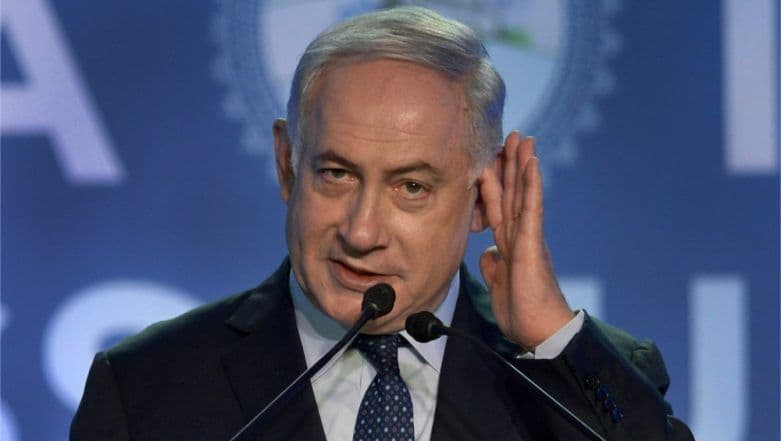 Tel Aviv, September 11: Israeli Prime Minister Benjamin Netanyahu was evacuated from the stage on Tuesday during an election rally at Ashdod city. Netanyahu's security guards took him off the stage after sirens were heard from rockets being launched from Gaza into Israel. No injuries have been reported till now. Israel PM Benjamin Netanyahu, Friend of Narendra Modi, Cancels Visit to India For Second Time.
Earlier in the day, the Israeli PM during one of his election rally announced plans to annex parts of the West Bank if he comes to retains power in the coming elections. Addressing media, He said that if he gets re-elected, he will apply Israeli sovereignty over the Jordan Valley and the northern Dead Sea. Israel Will Defend Itself by Any Means, Says Benjamin Netanyahu Over Airstrikes Across Middle East.
Video of The Incident:
#BREAKING: Netanyahu being evecuated from stage during an election rally in Ashdod, after sirens were heard; 5 rockets launched, no injuries reported pic.twitter.com/0S4DgKjd6m

— Amichai Stein (@AmichaiStein1) September 10, 2019
& another video of Netanyahu being evecuated (video: Yechiel Iloz) https://t.co/AZ73nbEI6g pic.twitter.com/AahNIQaIgf

— Amichai Stein (@AmichaiStein1) September 10, 2019
Israeli is going for general elections next week. The voting in Israel is taking place within six months Netanyahu, failed to form a coalition government in April. Netanyahu, who is seeking the fifth term as PM, is leading the right-wing Likud party. Benny Gantz, a former military chief of staff, is his main rival.