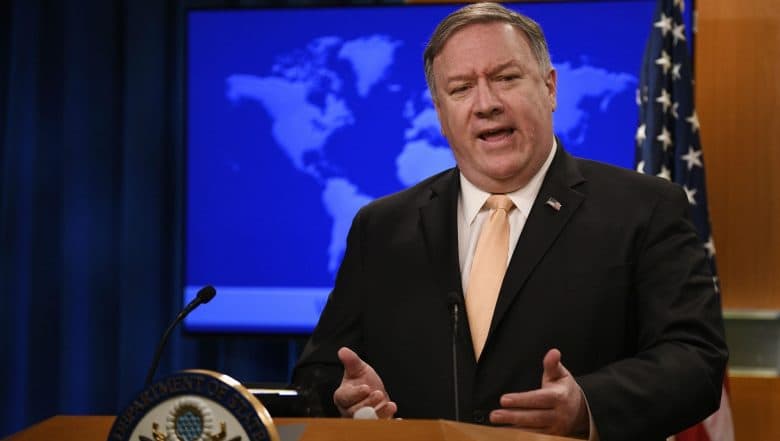 New Delhi/Washington, June 13: US Secretary of State Mike Pompeo cited the popular slogan of the Bharatiya Janata Party (BJP) 'Modi Hai To Mumkin Hai' to hail Prime Minister Narendra Modi and hoped to take the bilateral relationship with India to the next level. Speaking at the India Ideas Summit of US-India Business Council on Wednesday, Mike Pompeo said US President Donald Trump and Prime Minister Narendra Modi have a "unique opportunity" to make it happen.
"As Prime Minister (Narendra) Modi said in his latest campaign, 'Modi Hai To Mumkin Hai,' or 'Modi makes it possible', I'm looking forward to exploring what's possible between our people," Pompeo, who is scheduled to leave for India on June 24, said in his major India policy speech. He said truly believes the US and India have a unique opportunity to move forward together for the good of their people. Mike Pompeo to Boost US' 'Incredibly Important' Ties with India During Visit to New Delhi.
Pompeo said that he was not surprised by the result of the recently concluded Lok Sabha elections. "Many observers were surprised by results but I wasn't. I had been watching closely with my team and we knew that PM is a new kind of leader. He's the son of a tea-seller who worked his way up, governing a state for 13 years and now leads one of the world's truly emerging powers," Pompeo said. "He's made economic development for the poorest Indians a priority. And indeed, millions who once went without light bulbs now have electricity. And millions who lacked cookstoves now have them," he added.
Modi hai to mumkin hai, says Mike Pompeo
The US Secretary of State also said that the Trump administration has taken a tough stand against Pakistan for its "unacceptable support" for terrorism in the region. "Under President Trump, we have taken our defence cooperation to new heights solidifying our common vision in Indo Pacific and has taken a far tougher stand on Pakistan unacceptable support for terrorism," he said.
Describing India's External Affairs Minister S Jaishankar as a strong partner in his new counterpart, Pompeo listed out some of the "big ideas and big opportunities" that can take the bilateral relationship to a new level. "He said in a speech in April that he's ready to cultivate warmer relations with America – and the feeling is mutual. We want to move ahead," the US Secretary of State said. Jaishankar is a former ambassador to the United States.