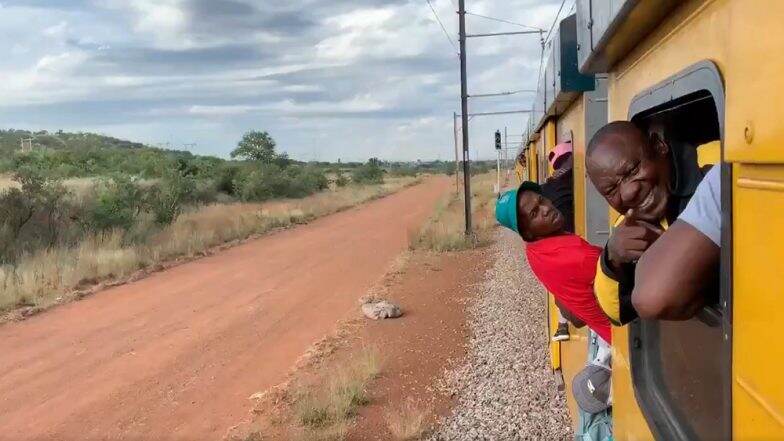 Toronto, March 20: India and South Africa have a shared legacy dating back to the time of Mahatma Gandhi but here's another thing the people of the two countries share in common – politicians taking a train ride to connect with the masses to garner votes. Since it's election season in South Africa, the country's president Cyril Ramaphosa, who is canvassing for votes, took a train ride to connect with his followers – but he got a firsthand experience of the difficult time commuters face, when his train got stuck for close to four hours mid-way during his journey.
Ramaphosa was travelling with a media contingent as he went from town to town, on the election campaign trail. However, his journey got off to a rickety start as his train from Mabopane township to the capital Pretoria arrived over an hour late. The South African president then got into the crowded car for what was to be a 45-minute journey. But it took the train over three hours to get to Pretoria.
During the long-wait, Ramaphosa was seen talking to his fellow country-men, poking his head out of the train window to talk to people outside and also promising change to South Africa's national rail service. Read: South Africa's Land Reforms and What Donald Trump Got Wrong about Them
Upon alighting at Pretoria, Ramaphosa said, "It is unacceptable that a trip of 50km (30 miles) can take us three hours and it must come to an end. We are going to talk to Prasa to get things right or otherwise heads must roll," Ramaphosa added.
South Africa's trains have been in the news in the past months for major accidents that have injured hundreds of passengers.
A Canadian reporter based in Johannesburg wondered whether the spectacle was "the greatest-ever metaphor for South Africa".
President Ramaphosa staring out the window of a stalled train: greatest-ever metaphor for South Africa? https://t.co/3qbiikvb5c

— Geoffrey York (@geoffreyyork) March 18, 2019
While an opposition politician quipped: "New driver, same broken old train".
The metaphor. Ramaphosa in trains that break down daily, but he is all smiles. His face says don't worry about the broken ANC, vote for for me, not the ANC. Trust me even though it is beyond impossible to fix the ANC, I'm just a passenger here. New driver, same broken old train. pic.twitter.com/Szn3TQ8IX6

— Phumzile Van Damme (@zilevandamme) March 18, 2019
Ramaphosa replaced Jacob Zuma as president in 2018 after a major corruption scandal forced the former South African president to step down. Ramaphosa is hoping to win the coming elections scheduled for May. Polls say the president's African National Congress is looking to win the upcoming general elections with close to 60 percent of the vote share.