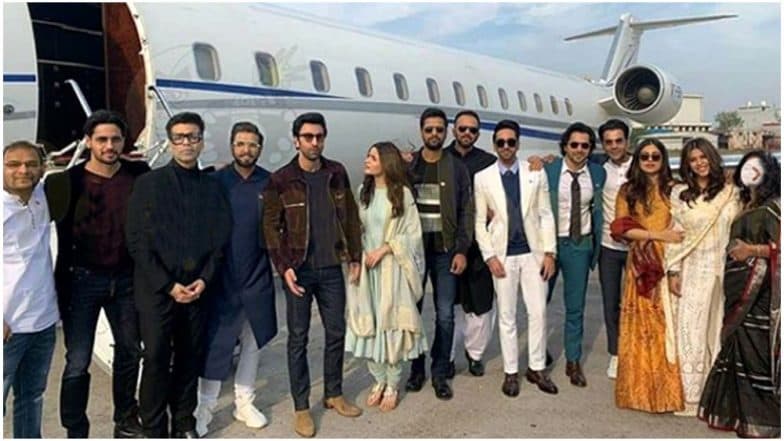 Remember the picture of Alia Bhatt with the rest of the Bollywood brigade that went viral on social media? Yes, the same one where she's seen interacting with beau Ranbir Kapoor while the rest of them face the camera and pose for a picture. Well, for the curious minds who wondered if the couple had any arguments and if everything was fine between them, the actress has an answer for y'all. Alia with Ranveer in their recent interaction with Zoom channel for Gully Boy was asked to spill the beans of this iconic picture and what was the real interaction going on then. And unlike any other times when she simply goes back in her shell and refuses to comment on her personal life, her reaction was affirmative this time. Ranbir Kapoor Rejected Alia Bhatt's Gully Boy and The Reason is...
"I was asking Ranbir if he is smiling or giving a cool look", said the Raazi actress was the host asked her to explain the reaction. In her defence, Alia meant that she was simply asking her beau if he was merely posing or smiling and just while she turned her face to question him, someone clicked the picture and rest is history. Well, it was definitely a petty issue but her reaction got highlighted differently and we all started assuming if there's some trouble brewing in their paradise. We're glad to realise there was no such thing and it was a simple case of the wrong click. Alia Bhatt Receives A Precious New Year Gift From Ranbir Kapoor's Sister Riddhima.
Off late we have been hearing stories about the couple being upset with each other. While he wants some privacy, she thinks Ranbir is not putting enough efforts into their relationship. Of course, they did quash all the theories by making a joint appearance at Umang event this year and all the speculations were finally put to rest. Coming to stories about them getting married anytime soon, she insists it's not happening in the near future and we have no other option but to trust her.