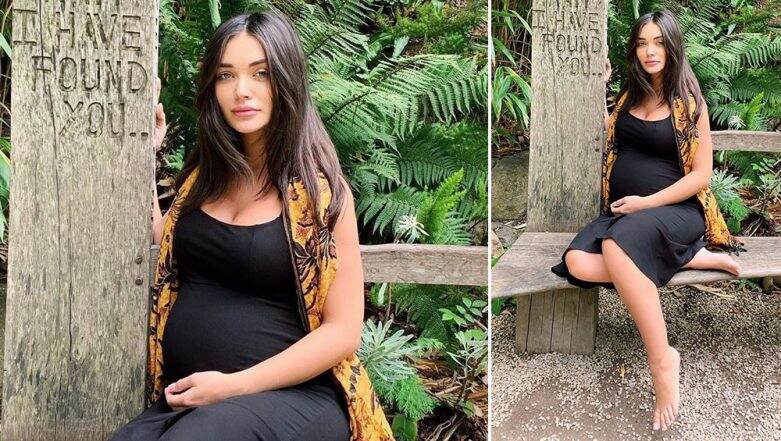 Amy Jackson is currently in the last trimester of her pregnancy and we have to say, we have been loving her social media presence so far. She has been active and often shares several pictures of her pregnancy on social media and has even set maternity fashion goals with them. The 2.0 actress is expecting her first child with her fiancé George Panayiotou. It has been a delight watching Amy take vacations and chill as she enjoys her pregnancy. In her recent Instagram post, she shared a picture of herself from her third trimester and wrote a note along with it stating how important it is to be fit during this time. Amy Jackson Looks Gorgeous as She Goes Topless in a Picture Flaunting Her 33 Weeks Pregnant Belly - See Picture.
In the picture, we see Amy enjoying outdoors as she is seen sitting in a gorgeous location wearing a black dress. Sharing the picture, Amy wrote, "Afternoons like this. The decision to take a little step back from work over the last month was scary but definitely necessary. Although waking up at mid day and eating whatever you want surprisingly gets a bit boring after a couple of weeks but once you're in that mindset, it's so hard to snap out of it!! I've been finding it really difficult to motivate myself through the last few weeks but yesterday was so enlightening. I've realised regardless of what's happening... it's sooo important to get up, get changed, and spend some time outside. Nature is super powerful."
Check out the picture here:
Amy seemed to have addressed quite a common problem that is prevalent among to-be mothers who find it difficult to take time off work. As soon as Amy shared this post, her lovely fans came in support asking her to relax and enjoy this period. Amy Jackson's Maternity Style Is Making Us Go WOW! 7 Pics of the Actress Flaunting Her Baby Bump in Style. 
Amy has worked not only in Bollywood but is a much bigger sensation in the South. She was last seen in 2.0 along with Rajinikanth and Akshay Kumar. The actress is expected to be due in September 2019.