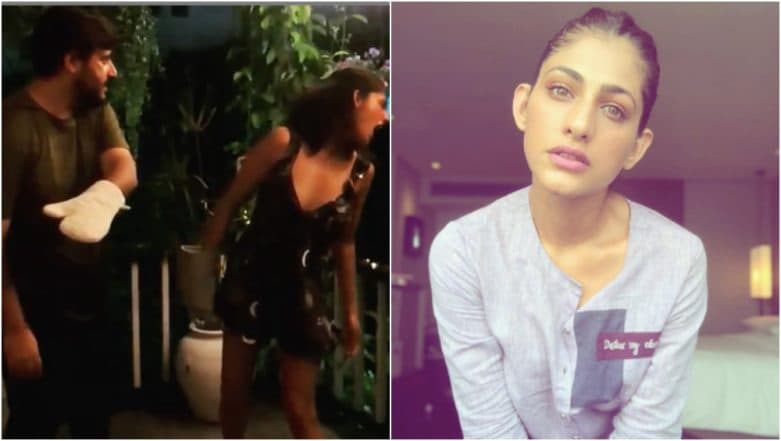 While Shahid Kapoor's Kabir Singh has been making big bucks at the box office, it has also been making a lot of noise for its content. The film has become one of the most debated topics currently and social media is buzzing with opinions surrounding its character and whether it a representation of toxic masculinity. With a recent interview of the film's director, Sandeep Reddy Vanga, things got even messier as some of his comments did not go well and rattled the social media users enough to start a fresh Twitter debate.  Kabir Singh Director Sandeep Reddy Vanga Slams Critics; Says Love Gives the Liberty to Slap Your Beloved.
Sandeep in his interview with Anupama Chopra for Film Companion said, "When you are deeply in love and deeply connected to a woman (and vice versa), if you don't have the liberty of slapping each other, then I don't see anything there."
This statement certainly did not go well with many people and among them was also Sacred Games star Kubra Sait. While some supporters of the director started a hashtag saying 'We support Sandeep Reddy Vanga', Sait who did not agree with the director's views, had a hilarious way of responding to all the uproar. The actress posted two videos on Twitter, one with Goldie Behl where they are seen slapping each other wearing oven mitts and one where she's slapping herself calling it 'self love'. Shahid Kapoor's Kabir Singh Director Sandeep Reddy Vanga Starts a Whole New Heated Debate with His Latest Interview - Read Tweets.
Check out Kubra Sait's tweet here:
This is what love will look like if men and WOMEN are taught that slapping is being emotional.

💎 Man @GOLDIEBEHL 🙏🏽 pic.twitter.com/VTC5SkrR8r

— Kubbra Sait (@KubbraSait) July 7, 2019
Here's another funny tweet shared by Kubra Sait:
I'll leave you with this thought.

Good night. pic.twitter.com/WOrWJy0ECn

— Kubbra Sait (@KubbraSait) July 7, 2019
Clearly, Kubra Sait was unhappy with the Kabir Singh director's comments. Sharing the video, she wrote, "I am being sarcastic! No sir it's not the way one defines love. That's a toxic real-time relationship. It shouldn't exist.)
Thank You @goldiebehl for ending the bender of a night with this jewel 💎 Hahahhaha!!"
Despite all the criticism, the film has become one of the biggest films for Shahid Kapoor's career. It collected over 200 crores at the box office. We wonder how the actor is going to react to all this Twitter rage that has started afresh against the film's director.