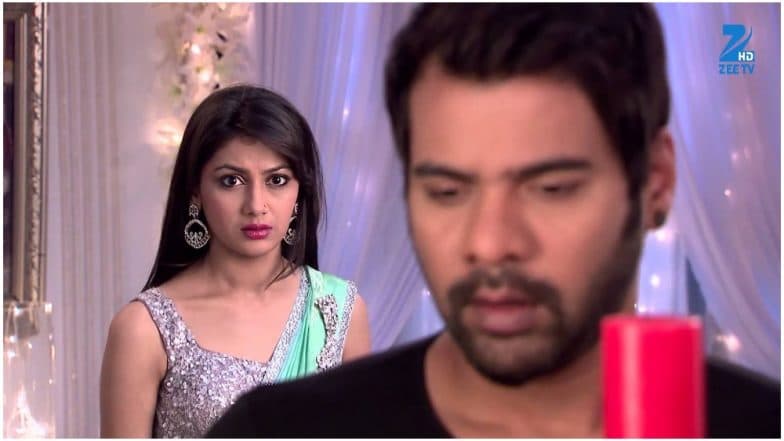 Today's episode of Kumkum Bhagya starts with Abhi (Shabir Ahluwalia) looking for Pragya (Sriti Jha). He enquires the auto drivers about her. One of the auto drivers identifies Pragya's photo and tells him about the location where Pragya has gone to. Nikhil fears if his goon does some deal directly with Pragya and cheat on him. There Shanky reaches Mehra house to give the envelope to Pragya. But Nikhil asks him to keep on video mode so that he can see the happenings and assures him about 50% partnership in the ransom money. King listens to his conversation. Shanky starts running from King. King follows him. While running, Shanky's leg gets stuck but by the time King reaches to him, Shanky again becomes successful to escape.
Meanwhile, Shetty brings Kiara to the location given to Pragya. He asks Kiara not to get scared. King finds Shanky. He enquires about Kiara. Nikhil gets tensed as Shanky also doesn't pick up his call. King threatens Shanky and asks him to let him talk to Nikhil. King makes a deal with Nikhil to hand over Kiara to him assuring him to pay him the ransom money. Nikhil doesn't trust him. King threatens Nikhil to inform Police about him. Nikhil agrees to meet King and hand over Kiara to him.
Pragya reaches to the location by auto. She enters inside. Abhi is also on the way but his car gets punctured in between. He calls Purab for help. Immediately the battery of his mobile goes off. Abhi starts asking for a lift to the cars passing by from there. Finally, he gets a life but the person is Shanky. Pragya enters the property where she starts looking for Kiara. Kiara listens to her voice. Shetty takes her to the side from where Pragya's voice is coming. Finally mother and daughter meet. Both of them get very emotional. Shetty asks Pragya to come from the other door so that she can take Kiara back.
There Nikhil reaches King's office. But he decides not to let King that he doesn't have Kiara with him. He asks King about the offer. King holds his neck as Nikhil intended to kill Kiara. King offers a double amount than Abhi declared on TV. Before he tells Nikhil about what he wants in return, Aaliya comes in the cabin. King and Nikhil get tensed. King asks Nikhil to leave from there by calling him by another name. Aaliya identifies Nikhil's voice but King does something to divert Aaliya and Nikhil leaves from there. Aaliya believes that King gave her some fake reason about the person. She immediately goes to see who he is. But she doesn't find Nikhil outside.
Purab and Disha reach to the location where Abhi's car is punctured. They don't find Abhi there. So they decide to follow the location. Shanky enquires Abhi about Kiara. He takes him to another location by giving some fake reason to Abhi. He thinks that Shetty must have called Abhi there. Aaliya also keeps on looking for Nikhil in the office.