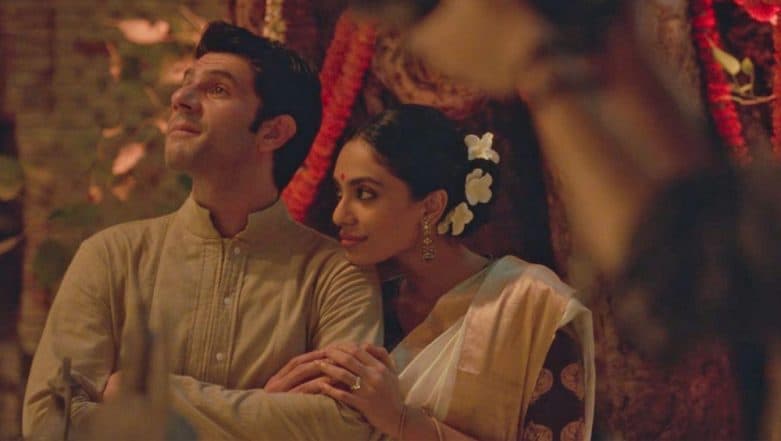 ICYMI, Zoya Akhtar has released a new web series, Made in Heaven, that she has written and produced and directed. The web-series stars Sobhita Dhulipala and Arjun Mathur playing friends and business partners in a wedding planning venture. Arjun's Kabir is Gay and Sobhita's Tara is unhappily married and the show revolves around how these two navigate their messed up lives and handle their venture, while looking absolutely deliciously hot. The 9-episodes long series has struck a chord with the audience and you can find many love-complaining that they ended up binge watching it, losing sleep in the process. In fact, there are quite a lot of funny reactions to the series out there on the internet.
The number of Twitter handles thirst tweeting for Kabir, Tara, Arjun or Sobhita (Or all four of them) is also way too high. So, we absolutely need to talk about the increasing popularity of the show. And what better way than to list down the funniest reaction to Made in Heaven that we could find.
Here we go:
Umm..no she doesn't!
Good god does Sobhita Dhulipala even have a bad angle?

— Shreemi Verma (@shreemiverma) March 11, 2019
FOLLOWING
Almost done with #MadeInHeaven Please consider this now to be a Sobhita Dhulipala fan account

— Asim Burney (@asimburney) March 11, 2019
Whatever rows your boat, buddy
sobhita dhulipala i will drink ur bath water

— lemon (@muteista) March 8, 2019
God works in mysterious ways...maybe
How are Sobhita Dhulipala and I both Telugu but she looks like THAT and I look like this.

Every day I find a reason to be an atheist.

— Meher Manda (@meherness) March 10, 2019
Tell the journo writing this article about it
I feel like such an underperformer. In Made in Heaven, a journalist goes to interview 5000 crore ka heir & marries him. Did more than a decade of journalism and was just happy with press conference ka khana.

— Naomi Datta (@nowme_datta) March 11, 2019
You are not alone
I'm watching "Made In Heaven" for the 100% chiseled jawlines in every character.

— Aditi (hot takes 4 koolkidz) (@awryaditi) March 9, 2019
I mean, he has but...
This guy who plays the camerman in #MadeInHeaven has done a great job. pic.twitter.com/o5KHd4xfnU

— That Goan Boy (@schmmuck) March 11, 2019
Good morning to you too!
Good morning to everyone except Jim sarbh's character in Made in Heaven

— gazorpazorp yahin banayenge (@kuchhimau) March 11, 2019
Delhi, y u do diz
One has to watch Made in Heaven to realize the only way to get really gorgeous men in Delhi is to be a gay man.

— Ray Stings (@Purba_Ray) March 12, 2019
Sleep is a waste of time anyway, unless you are dreaming of Made in Heaven
made in heaven is why i was sleep deprived today

— riddhi (@goodriddhance) March 12, 2019
The most paused moment of the decade
jim sarbh just said "baby thats fucking brutal" on made in heaven so obviously i paused and had a sip of water

— dumb bitch memoir (@dasironic) March 12, 2019
*enter Pikachu shocked face meme*
Arjun Mathur being 38 years old has broken me like nothing ever has.

— shikha (@elitistsadgirl) March 11, 2019
Please RT. We need to help this person
guys I have replayed that "tere se shaadi kon karega behenchod" dialogue of kabir's at least 20 times now someone HELP ME

— a. (@aashnaaaugh) March 12, 2019
We need answers now!
Arjun Mathur gets to cuddle in bed with Ankur Rathee AND make out with my beloved Vikrant Massey like wow BEST GIG EVER LIVING MY BEST LIFE WHOM DO I HAVE TO FELLATE FOR THIS KINDA LUCK ETC

— Sobhita Dhulipala's Clavicle (@Salandthebadpun) March 12, 2019
THIS THREAD IS EPIC
me interrupting my colleagues in the office at 4pm every friday pic.twitter.com/LmEFbH5eAr

— divesh (@dvshrrr) March 9, 2019
So, as you can see that Made in Heaven has left viewers in shreds. Have enough days passed for us to start a petition for season 2 to come early? Like tomorrow? We will wait a couple of days more. Also, don not forget to tell us what is your take on Made in Heaven. We are ready to hear y'all on Twitter if you tag us @latestly.