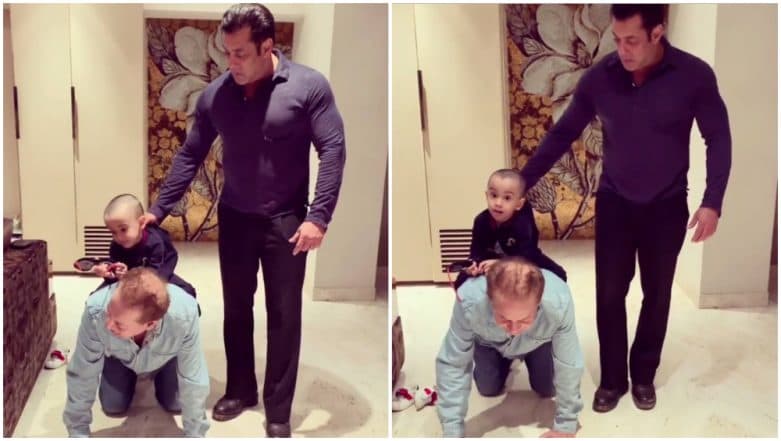 Salman Khan has always been fond of little kids. But when it comes to his nephew Ahil, he becomes a different person altogether. We usually see him in that hunk avatar, where is he pulls off that swag which he has. But around Ahil, he is that cute 'mamu' (uncle) who you would never want to leave alone. So, if you are a die-hard bhai fan, you must know how close he is to sister Arpita Khan Sharma and Aayush Sharma's this sweet kid. In the recent video, he was seen yet again playing with him adorably. Bharat: Salman Khan-Katrina Kaif's Film Ditches Recreated Songs, Instead to Have Traditional Festive Tracks.
The naughty kid is seen sitting on his grandfather, Salim Khan's back and making take on a piggy back ride. The person shooting the video kept on asking him where he wanted to go while Salman persuaded him to put on that cool 'chashma'! The fans were instantly crazy over the act and started pouring comments, appreciating the superstar Khan for humbly playing with the child.
Check out Ahil and Salman Khan's bonding
It is indeed refreshing to see SK enjoying some family time. He has been neck deep busy into the shoot of his extremely ambitious film, Bharat. He has donned several looks for this film, done some power packed action scenes and romanced his favourite co-star and ex-flame Katrina Kaif in the movie. Naturally, the scale of this Ali Abbas Zafar directorial is grander than you can imagine. Despite all this, Dabangg Khan chose to spend some quality time with the boy and what can be more endearing than this? Doesn't this video make you ask again, when is Salman Khan getting married and having kids of his own?