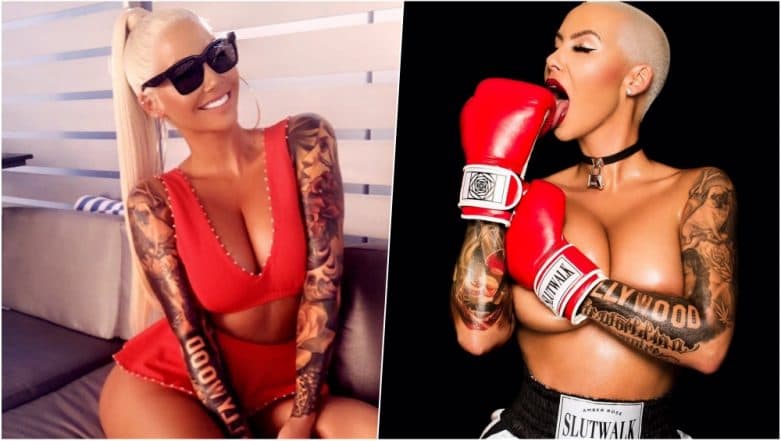 American model and actress Amber Rose has been a staunch supporter of women's right, championing sisterhood, independence and sexual freedom. On Tuesday Amber took to her Instagram platform to upload a topless snap to promote the 4th annual march for her organisation SlutWalk.
The 34-year-old model gushed body confidence in the image as she licked a boxing glove while utilising her other arm to cover her eye-popping assets. The event will be held on October 6, 2018.
Amber Rose Looks Like the Sexiest Boxer Ever
She stood against a black background to ensure that all the attention was on her as gave the camera a strong, sexy and unapologetic pose. The inked beauty covered her assets with one hand while licking the boxing glove of the other hand. She covered her modesty with a pair of monochrome bottoms which was engraved with the SlutWalk logo.
Amber's SlutWalk is a one-day festival part of the larger transnational movement of protest marches that call for an end to rape culture, including victim blaming and slut shaming of sexual assault victims. The event boasts many 'cool activities' according to its website that include contests, giveaways, vendors, speakers, performances, live DJ's, educational booths, free breast cancer exams and HIV testing among other things.
This year's event comes exactly one year and one day after The New York Times published its initial Harvey Weinstein expose that led to numerous women coming forward with sexual assault and harassment allegations against other powerful men in Hollywood and contributed to the launch of the #MeToo and Time's Up movements. This year's SlutWalk will be a powerful reminder of how far we have come this year and how far we still have to go.