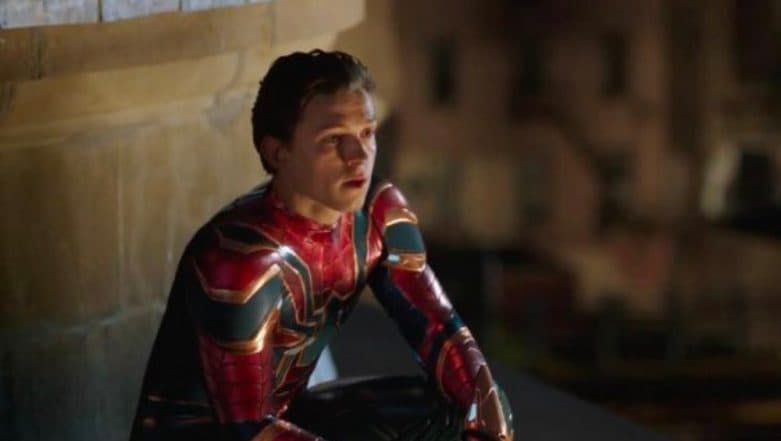 The release of Tom Holland's s next superhero outing, Spider-Man Far From Home is barely two weeks away from its release and the makers have recently released its new TV spot. While the trailer revolved around Peter Parker's hesitance to disrupt his ongoing high school trip and save the world, the new promo focusses on the absence of Tony Stark. After Iron Man's big sacrifice in Avengers: Endgame, Peter Parker is lost in the world without his mentor but he wants to live up to his expectations. Spiderman Far From Home Actor Tom Holland Says, 'Robert Downey Jr As Special to Me As Tony Stark Is to Peter Parker'.
Peter is encouraged by Happy Hogan to go ahead and fight his battle for the world that Tony left behind. Hogan reminds him that Tony second-guessed everything he did but the only thing he didn't second guess was picking him (Peter Parker). He should be credited for making Spider-Man a fellow Avenger and no matter what Parker does, he'll never be able to fill the void that Tony created. This new promo focusses and relies heavily on Tony Stark's absence and how this world is in dire need of a new Iron Man. Chris Hemsworth Actually Helped Tom Holland Land The Role Of Spider-Man In MCU! Here's How.
Check out the new TV spot of Spider-Man Far From Home
The only time Tony Stark didn't second guess was when he chose Peter Parker as the next avenger. Will Parker prove him right? Find out in #SpiderManFarFromHome, releasing July 5.

— Sony Pictures India (@SonyPicsIndia) June 20, 2019
Spider-Man Far From Home opened to great reviews in Hollywood with many critics hailing this new superhero outing. Twitter is currently flooded with positive responses for Marvel's latest offering and such good words have only piqued our interest further.