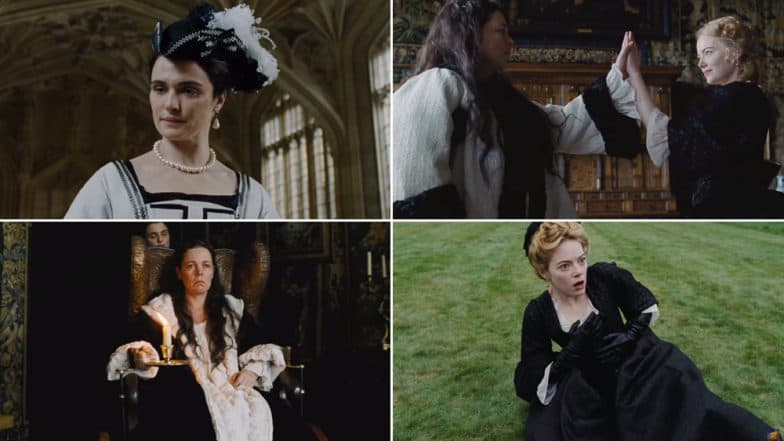 The Favourite is one of the prime contenders in ten major categories at the 91st Academy Awards. Starring some big names such as Olivia Colman, Emma Stone and Rachel Weisz, the film is all set to release in India on March 1. A brand new trailer of the film ahead of its India release has been released by the film's distributor, Fox Star India. The Favourite is a period drama set in the 18th century when England was at war with France. Revolving around politics, the film mainly explores the lives of three strong women who go from being vulnerable to headstrong in a heartbeat. The film is a unique cynical comedy on the lives of the royals.
With an impressive storyline and some stellar performances, the film has received as many as ten Academy Award nominations which include Best Picture, Costume Design, Best Director, two nominations for Best Supporting actress which are Emma Stone and Rachel Weisz and a Best Actress nomination for Olivia Colman. It has also been nominated for Best Original Screenplay, Cinematography, Production Design and Film Editing. Yorgos Lanthimos Nominated For Oscars 2019 Best Director Category For The Favourite: All About Yorgos Lanthimos And His Chances of Winning at 91st Academy Awards.
Take a look at the trailer of The Favourite here:
Colman essays the role of a frail Queen Annie in the film whereas Rachel Weisz is seen as Lady Sarah who in governs on behalf of the queen. The dynamics between Lady Sarah and the Queen change when the former takes interest in the servant Abigail (Emma Stone). Olivia Colman Nominated for Oscars 2019 Best Actress Category for The Favourite: All About Colman and Her Chances of Winning at 91st Academy Awards
Directed by Yorgos Lanthimos, the black comedy releases this March post the Academy Awards, it will be interesting to see how many honours the film will take home this year. The Favourite is competing along with song big films in the Best Picture category such as Roma, Black Panther, Bohemian Rhapsody, Vice and A Star Is Born.