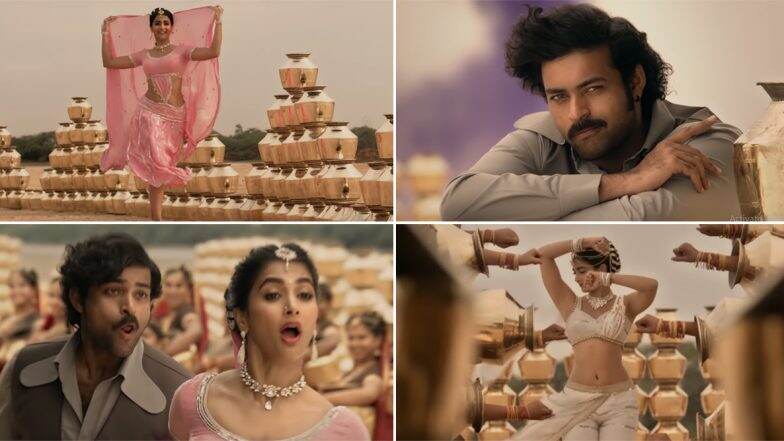 There is a lot of curiosity around the Telugu film Valmiki starring Varun Tej and Pooja Hegde in the lead. The actress is seen sporting the character 'Sridevi' in this village-based story. The makers made an attempt to give justice to the character's name and also released the recreated song of late legendary actress Sridevi. The makers recently released the promo of the new version of much-loved song "Elluvochi Godaramma" from 1982 film Devatha. Valmiki Trailer: Varun Tej And Atharvaa Murali Own Up The Screen Space!.
The song was unveiled by renowned filmmaker K Raghavendra Rao who originally directed the film, on request of this film's creator Harish Shankar. The song promo gives us a glimpse of what ahead in the track which is like an exact replica of the original one, sans the Sridevi charm in it.  Check out the track below.
Watch Vamiki Song Elluvochi Godaramma Promo Here:
Thankfully, the vocals have not been replaced and the vocals are of those of original singers SP Balasubrahmanyam and P Susheela. Sekhar Master has added his own contemporary dance steps to the song, to make it watchable for the new gen audience. When it is Sridevi, the comparison is unavoidable and Pooja probably has it coming. The actress looks pretty in all the Sridevi-like attires and the dance moves. However, it is almost a bad idea to try to fit into her shoes that were only meant for her.
The movie is a gangster drama that has Varun in a grey role. His kohl-rimmed eyes and unique hairstyle in this film, surprised the fans. All we know for now is that the hype around the flick is real amongst the fans and we wait to see what's in full version of the song.