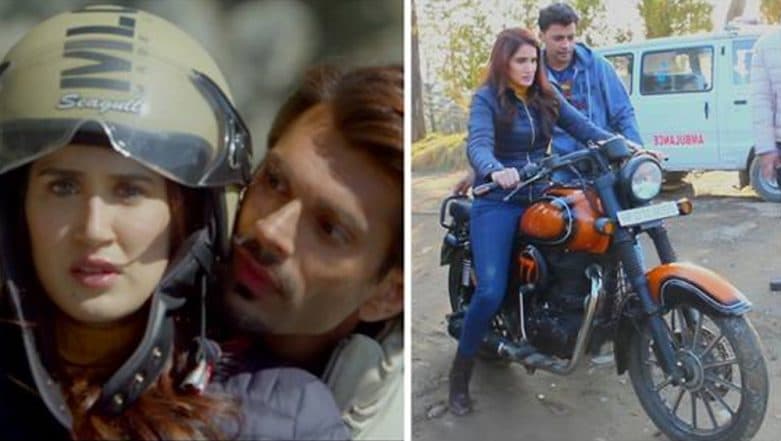 Learning how to drive either a bike or a car is always a challenging experience. And despite training for riding a two-wheeler, actress Sagarika Ghatge, who will be making her digital debut with ALTBalaji's BOSS- Baap of Special Services, faced a tough time while filming for her bike riding scenes in the thriller with co-star Karan Singh Grover. However, like a dedicated artist, Sagarika, who fell off the bike a number of times, managed to finally give a perfect shot at the end of the day. ALTBalaji's BOSS – Baap of Special Services To Not Launch on July 25, But THIS Date!
Says Sagarika, "It was my very first experience of riding a bike onscreen. I did train for it but in the actual scene, I had to ride a very heavy bike, which was really tough for me. Also, we were shooting in deep valleys and on a bumpy road in Shimla which made it more difficult for me. Despite all these circumstances I really enjoyed riding the bike. Doing something for the first time is always fun and memorable." BOSS – Baap of Special Services Promo Review: This Karan Singh Grover – Sagarika Ghatge Thriller Is Slick and Engaging!
Well, in fact, Sagarika even almost dropped Karan who was riding pillion. Recalling the incident, she reveals, "I fell down from the bike on the very first day of the shoot. In the first scene, I fell down almost 5-6 times and it was really funny that Karan, who was sitting behind me, actually saved himself. All of this happened in the spur-of-the-moment. But finally, I gave the perfect shot." Karan Singh Grover and Sagarika Ghatge Look Badass In This New Poster of ALTBalaji's BOSS – Baap of Special Services!
Well, the show has made the right amount of noise ever since it was launched back in March, considering Sagarika and Karan's fresh pairing. The show that marks the duo's foray into digital space, is a fast-paced thriller that will be seen tracing the story of an undercover cop Sudhir Kohli, who turns out has another back story altogether, that his partner ACP Sakshi Ranjan uncovers. The show premieres on ALTBalaji on August 2, 2019.