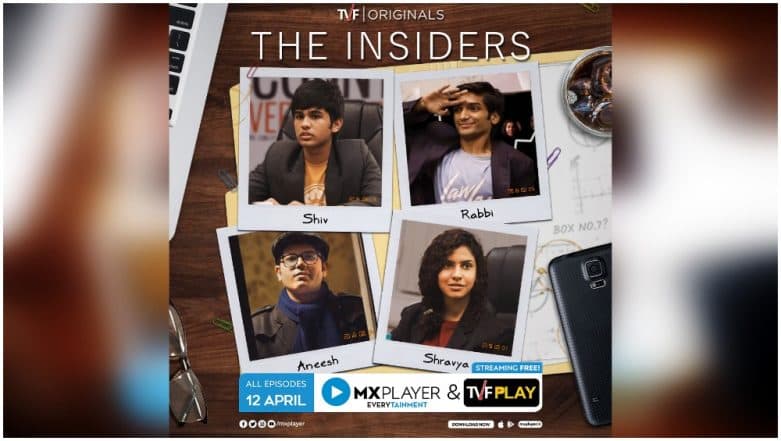 As teenagers, we've all had our exclusive inner circle of loyal friends with whom we could share anything! Secrets, crazy imaginations, questions that would otherwise be deemed stupid and a happy carefree attitude. MX Player and TVFPlay bring viewers a chance to be an honorary member of a similar secret club called the 'Insiders' on the 12th of April.
MX Exclusive "Insiders" – a TVF Original, is not a rom-com, or a crime-thriller, or a slow-cooked-drama that speaks about real-world issues. This show is the perspective of the privileged who were so protected by their families, that they developed an attachment to their bedrooms. It is about a generation that has learned more from the internet than it has from the streets.
The insiders are a bunch of millennials trying to protect the pillars of their childhood from falling as they inevitably turn towards adulthood. The five-episodic series takes you on an adventure of how Shiv, Rabbi, Aneesh and Shravya deal with unexpected situations as their imaginations take the most bizarre turns each time they meet. The show stars Omkar Kulkarni, Ritvik Joshi, Arnav Bhasin and Himika Bose in the lead.
Watch the trailer of Insiders below:
BTW, do not forget to be a part of our Insiders contest and win some exciting prizes. Check out the tweet below to know how to do that:
Participate in our #Insiders contest and win Amazon vouchers worth Rs 1000. All you need to do is answer two simple questions and RT this tweet.

1. What is the name of your Insiders Club?

2. What is the best kept secret of your Insiders group?@MXPlayer #TVF #Insiders pic.twitter.com/WZvZngnGFt

— LatestLY (@latestly) April 8, 2019
Directed by Pranav Bhasin, Insiders is a quirky teenage drama show that follows the lives of 3 young boys who start a self-proclaimed club that meets every weekend, just to kill time while their parents hang out. During their hangout sessions, these boys imagine the world to be larger than it is with their exaggerated ideas and fantasies. But life as they knew it changes when a fourth member, joins the coveted club! (sourced from partners)