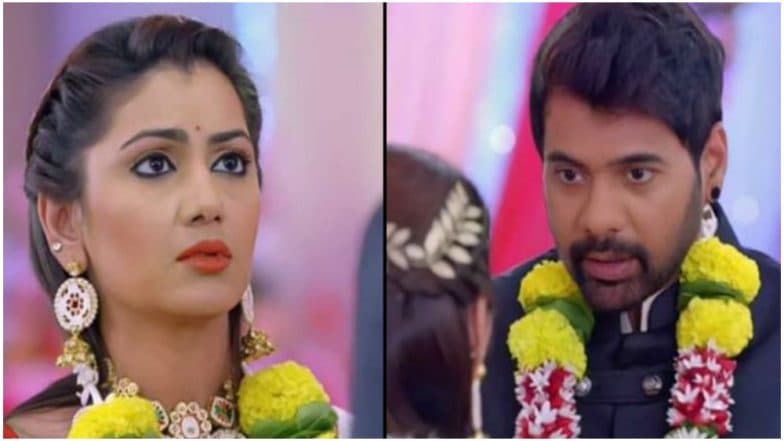 Today's episode of Kumkum Bhagya starts with Tanu telling Aaliya that Abhi (Shabir Ahluwalia)sticks to his promise and will not go against his promise, and tells that Abhi had promised her mother that he will marry her. Abhi comes there. Aaliya leaves. Tanu asks him not to talk about Pragya (Sriti Jha). Abhi says he want's to talk about Pragya only as she said. Tanu asks who is she to order you and refuses to talk about her. Abhi says that he wants to remarry Pragya again. Tanu says she would have digested about his affair, but can't about marriage. Abhi tells her that she knew that he always loved Pragya. Tanu says she was with him for 7 years. Abhi says you are overreacting. Tanu says that she is his wife and asks why she shall not act. Abhi says Pragya is my first and last wife and asks her not to call her second woman. Pragya tells King that they shall go as she is marrying Abhi. King thinks of hitting Pragya's head on the wall and asks can he correct her pallu. He takes out a pin from the drawer. Pragya sits on the table. King says he will not let her go.
Tanu tells Abhi that she never left him and was against him as he left her for Pragya. Abhi says she didn't want to marry him as she wanted to become a model. He thanks her for not marrying him and says that's why he married Pragya. He tells that he has decided to remarry Pragya and says if she is not happy with his decision then she can leave. Tanu says if you remarry Pragya then she will get him arrested. Abhi asks her to do as she thinks right. King says he will not let her go alone as she is the bride. He says he will take her to the mandap. Pragya says she will be happy. King looks on.
Tanu tells Abhi that Pragya has brainwashed him. Abhi says not her, but she has brainwashed him always. Tanu tells that she will go to court and put molestation charges on him. Abhi asks how she will prove that we sleep in the same room, and asks if she has any proofs that we are married, and asks if she has any certificate of marriage etc. He says people call her as his wife as he let them call her. Abhi says he agreed to let her stay here for her mother as he thought she might be pained after her death. He says he let her stay here, but didn't give her his wife's rights. Abhi says we were not married but had a deal. Abhi says he cancel that deal. He advised her not to go to police or court else he will do something after that she will not be in a position even to think. Tanu is shocked and hugs him. Tanu says she got angry when he said that he will leave her. Tanu says she does not want to lose a friend and asks him to marry Pragya and says she will not file any complaint. Abhi says it's ok. Tanu looks at him revengeful and then says he can tell her that she has no objection with his marriage. Abhi smiles and is happy. Tanu wipes her fake tears.
There Tarun asks Neha if she is happy. Neha says she is very happy and tells that their love is true else Abhi and Pragya haven't accepted their love. Chachi tells Mitali that she has no problem with Neha, but had a problem with Pragya. She tells that Pragya was always right and she was thinking wrong about her. Chachi says that she is happy that their kids are taking inspiration from Abhi and Pragya and will be happy like them. Mitali says we shall start new relation forgetting the past. She says we shall be good samdhans. Dasi asks them to dance. Tanu thinks of Abhi and her fake anniversary celebration. She shouts and cries. Aaliya sees her crying and takes her with her.
Everyone is happy and Dhol is played for the celebration before the marriage. Raj and Mitali dance. They do the bhangra. Disha shows Abhi and pragya's pic to Dadi. Dadi gets happy and gives money to the dhol guys. She asks Abhi to get ready as Pragya is about to come. Disha takes him. Dadi thinks her Pragya is coming home, all the happiness will come back. King thinks of Abhi and Pragya's dance and all the past happenings. Pragya is smiling thinking about Abhi. King drives the car rashly. Pragya stops the car and asks where is your concentration. King says sorry.
Aaliya takes Tanu to the room and asks her not to cry. She gives her water. Tanu tells her that Abhi said what he shouldn't have told. Aaliya asks her to tell clearly. Tanu says what he might have told me. Aaliya says that she is not an astrologer to know. Tanu says this all is happening because of her and says even she wanted Abhi to leave her. Aaliya asks if she is mad and asks what did Abhi tell her. Tanu says he said that he is marrying Pragya when she refused then he asked her to prove that she is married to him and if she can't accept Pragya then she should leave the house.
In the precap, Kiara asks Abhi if he was the bad guy. Abhi says sorry for throwing Pragya out and for keeping them away.