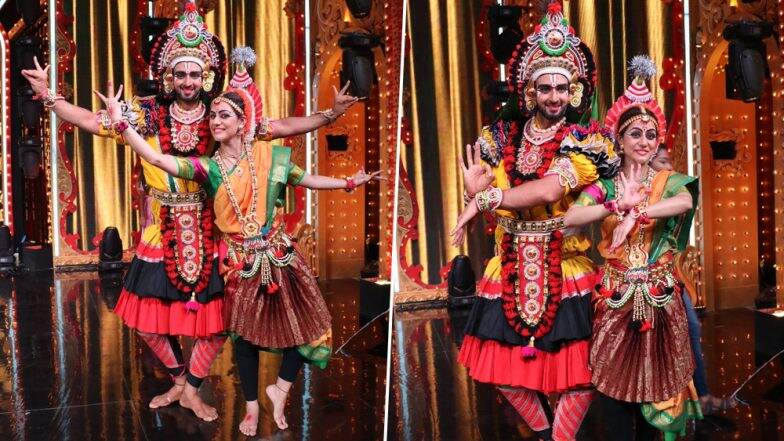 The injuries chapter in Nach Baliye 9 started right from the first week itself. It began with Shantanu Maheshwari's girlfriend Nityaami Shirke and soon followed Shraddha Arya. Joining the list last week was actor Sourabh Raaj Jain's wife Ridhima Jain. Last week, Sourabh and Ridhima attempted a classical performance, but just before the technical rehearsals, Ridhima slipped and hurt her chin badly.  She was rushed to the hospital for stitches and also suffered from massive blood loss. Nach Baliye 9: From Sourabh and Ridhima's Impressive Classical Performance, Urvashi and Anuj's Arguments Over Commitment To Babita and Vivek's Tearful Elimination, Here's All That Happened In Salman Khan's Dance Reality Show!
However, Ridhima soon was back on the sets after getting stitches and medication and the duo accomplished their traditional 'Yakshagana' performance and scored an impressive 93.5 average score.
Opening up on the challenges of putting up such an act, in addition to wife Riddhima's injury, Sourabh revealed, "Putting together this act was definitely challenging for us, as Riddhima suffered an unfortunate chin injury just a day before the main shoot, for which she had to get 8 stitches. I had even asked her about backing out of this one, but she stayed really strong and performed so well."
Elaborating on their performance, Sourabh shared, "Also the dance which we showcased on stage is a traditional folk dance which originated from Karnataka. While the hand and foot gestures and the facial expressions were very crucial in this one, it also needed a lot of practice, extra focus and lots of attention to minute details, which was eventually quite tough with my busy shooting schedule. I would only get time to rehearse at night, and with this particular dance form, it was quite a challenge to strike a balance between both." Sourabh Raaj Jain and Riddhima Jain, Nach Baliye 9 Couple: From Love Story to Career Details, Check Profiles of The Pair Participating on Salman Khan's Dance Reality Show
"Although overall, it (the act) was something Riddhima and I totally loved putting up on stage, as it was something new for us to learn as well. Some interesting facts we picked up about this dance form while learning it, were that for the makeup itself, boys are supposed to sit on the floor and get it done out of respect, and that's exactly what I did too, and quite enjoyed it," concluded Sourabh.
Well, we must say, Sourabh and Riddhima's efforts did pay off, for the pair received one of the highest scores of that day with their act. Also, looks like taking the risk of performing various acts - from embracing Lord Ganesha to portraying Lord Ram and Sita, and twisting to some tango as well, the couple aims to raise the bar for themselves pretty high with each passing week.