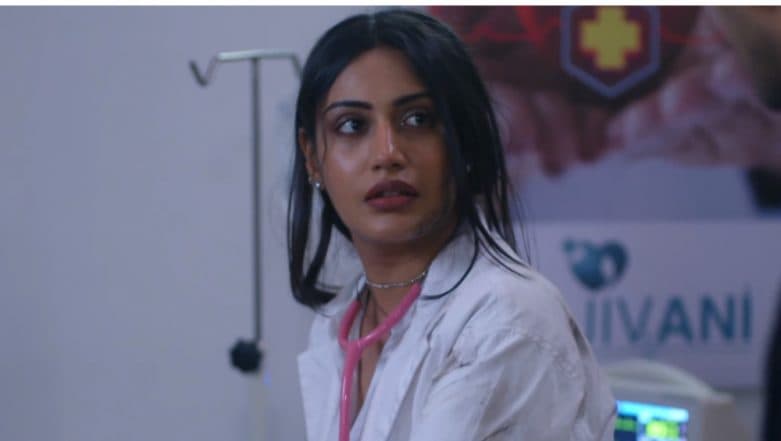 In yesterday's episode of Sanjivani 2, we saw Ishani siding with Rishab while he gets into a fierce fight with Sid. Later, an enraged Ishani slaps Sid when he tries to explain himself. Tonight's episode starts with Ishani (Surbhi Chandna) slapping Sid (Namit Khanna) and scolding him. Sid says he hasn't done anything. Ishani gets down from the ambulance and leaves. At the hospital, Rishabh meets Veronica and she praises him. Rishabh says this time, he will find out what has happened to her and tells her that Ishani will assist him in this case. Rishabh asks Ishani to admit Veronica and get tests done. Meanwhile, Sid washes his face and wonders why does he care so much for Ishani's opinion and that he should think of his patients. Asha comes and tells him that Rishabh took Ishani in his team and asks him to send her as well, as Ishaani needs her. Just then a man comes and falls unconscious, Sid checks him and asks Asha to get first aid. Sanjivani 2 September 10, 2019 Written Update Full Episode: Ishani Not Only Sides With Rishabh Against Sid But Also Slaps The Later!
Vardhan tells Rishab to take action against Ishani as she discharged Veronica without asking him and tells him to think like a boss and not a kid, or else he will be reporting to Ishani one day. He goes to Ishani and asks for Veronica's reports, but Veronica says that Ishani has told her that she is completely fine. Ishani says it was a gynaecological problem and that she suffers some bleeding and cough when her periods start. Rishab says it is a rare disease. Ishani tells him that there is no need for more tests to be done and that Veronica will be fine once she takes medicines. Rishab praises Ishani and tells Veronica that she will be fine. After she leaves, Rishabh scolds Ishani and accuses her of trying to boss him and tells her that he is removing her from his team. Ishani gets emotional and cries, Sid goes to her and asks her not to cry and to return to his team.
Sid gets a message that his patient is serious. Neil comes and sees that the patient is his father and gets disturbed. Sid asks for the OT to be booked and tells Asha to be with Neil as he needs her and asks her to send Rahil inside. Later, Asha comes to Neil and tries to cheer him up, by saying that she has left the surgery to stay by him, but Neil stays worried. Sid and Rahil operate Neil's dad and Sid asks the team to call in Dr Juhi immediately.
In the hospital, no senior doctor agrees to take Ishani into their team, which leaves her upset and unhappy. Ishani cries and says it was her dream to work here but since no one wants her to stay, she will leave and walks out of the hospital. 
In the next episode, Shashank tells Sid that Ishani left the hospital because of him and he has to get her back.