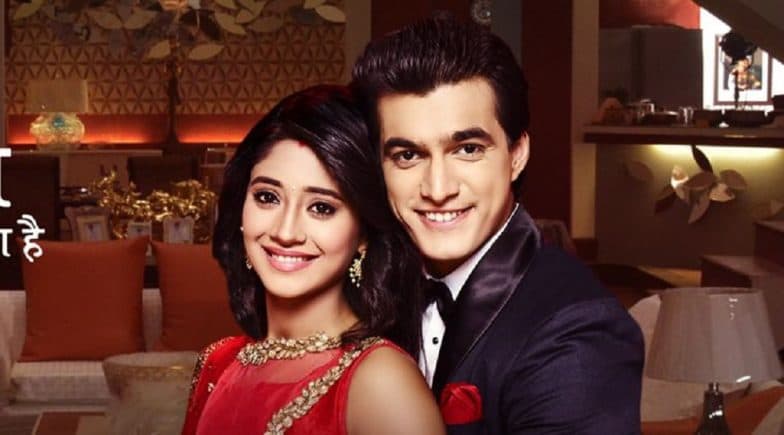 Today's episode of Yeh Rishta Kya Kehlata Hai starts with Surekha telling Suhasini and Manish that it is evening now and till now Kartik (Mohsin Khan) and Naira (Shivangii Joshi)have not come out from their bedroom. Just then advocate Raman comes. Manish asks him for the reason for his visit, he tells that Kartik (Mohsin Khan)had called him as he has made some documents to be signed. Kartik comes and asks the advocate if the papers are ready, he takes the paper from the advocate and hands over the paper to Suhasini and Manish and tells them to sign the paper as it is a mutual agreement for the safety of their baby child. Kartik tells them that they both cannot touch the baby without their permission and if they do Naira will leave the house that day itself. Suhasini gets emotional and tells Kartik why he is doing this all. Kartik answers that he does not want to take any risk and that they have to sign otherwise they will leave the house. Manish takes the papers and signs the paper and tells Suhasini also to sign it. Naira watches this all and gets upset.
Kirti messages Naira that she is sorry for Suhasini's behavior and tell her that they all are with her. Kirti then calls Naksh but the phone is not reachable. Just then Vaishali calls and tells Kirti that she has completed one meeting and is on the way to another and tells Kirti that she will send Aditya to collect the designs but Kirti tells her that she will mail the designs to her and no need sending anyone.
Bhabhi Maa calls Naira and enquires about her health and Nair narrates all that had to happen in the house and tells Bhabhi Maa that she is not able to make Kartik understand that this is not the way to handle the situation. Bhabhi Maa tells her that she only can make him understand what is right and what is wrong. Just then Kartik comes and Naira hugs him and thinks she has to do something so that everything will be fine.
Suhasini sees Naira sitting alone and eating salads, she tells Surekha to go and tell Naira to eat the salad with some olive oil or ghee. Kartik watches this while Suhasini tells Surekha to take and throw the laddoos she has made.
Kaveri tells Bhabhi Maa and Kirti that Naira is so upset over all this and tells Kartik is also upset. Kirti tells them Suhasini and Manish have done wrong and that they should be given some punishment for what they have done. Just then Kirti gets a call from Aditya. Kirti tells Aditya that she is busy now and when she is free she will call Vaishali and keeps the phone. Kirti gets messages over messages of Aditya, she gets irritated. Kaveri and Bhabhi Maa watch her.
In the Goenka's house, Manish tells Naira that he is sorry for whatever he has done and goes from there. Kirti comes and ask is she fine, Naira tells her that please make Kartik understand that he should not behave like this with the elders. Kirti tries to talk to Kartik and tells him that all mistake is not of Manish and Suhasini. It is just because they are like this and they can't change themselves at this age and that he has to understand them. Kirti tells Kartik that you should change their thinking and not them with his wise ideas. They are not criminal but our elders so we have to understand their feelings.
Luv and Kush are playing when by mistake they drop Kartik's laptop and says sorry and go from there. Naira tells Kartik that how you told them that he is not angry for their behavior, in the same way, he should forget all the mistakes that Suhasini and Manish did. We should think about all the mistakes of others and try to learn to forgive people. Suhasini gets a call from the Panditji enquiring about the pooja for her grandchild just then she sees Naira and Kartik coming with the laddoos she had made and Kartik giving it to Naira to eat it. Suhasini feels happy and cries as they have forgiven her. Kartik tells Suhasini to make more laddoos as the doctor has said to have it. Naira makes Suhasini understand that some people want a baby boy and some want a baby girl but it should be our thinking and one should not tell others to do and what not to do. Naira tells that she will eat this ladoos not to have a baby boy or baby girl, just as it is healthy for her.
In the precap, Suhasini is happy as Naira and Kartik have forgiven her.