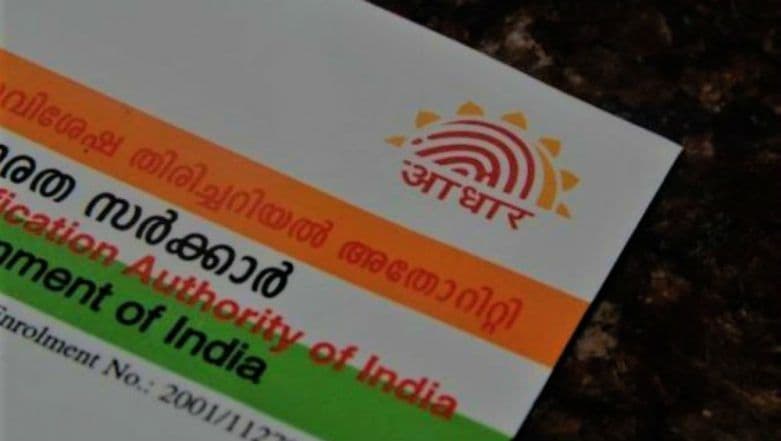 New Delhi, Sep 26: The Supreme Court on Wednesday announced that the requirement of Aadhaar for exams of National Eligibility cum Entrance Test (NEET), University Grants Commission (UGC) and Central Board of Secondary Education (CBSE) is not mandatory. Similarly, the court also ruled out the need to produce the 12-digit unique idenification number for school admissions.
In a huge relief to students, the Court today, while announcing its verdict on a batch of petitions challenging constitutional validity of Aadhaar said, "It is not mandatory to provide Aadhaar for CBSE, UGC or NEET exams." "Education has taken us from thumb impression to signature, now technology has taken us from signature to thumb impression," said the apex court. The bench headed by the CJI included Justices A K Sikri, A M Khanwilkar, D Y Chandrachud and Ashok Bhushan. Full Text: Aadhaar Verdict by Supreme Court.
The Court also observed, "Biometric data shall not be shared with any agency without the permission of the court," and also asked the central government to introduce a strong data protection law as soon as possible. Section 57 of the Aadhaar Act was struck down by the Court, as a result of which private companies cannot ask for Aadhaar numbers of consumers.
The apex court announced the verdict on a number of pleas challenging the constitutional validity of Aadhaar and it's enabling Act. The key arguments of the petitioners were that the Aadhaar scheme is unconstitutional and is in violation of the fundamental right to privacy and personal body autonomy.
The challenges against Aadhaar had started even before the law came into existence in 2016. At least 31 petitions, including one by former High Court judge KS Puttaswamy, have been filed in the matter. During the course of the hearing the court, on March 13, had indefinitely extended the deadline for linking Aadhaar with bank accounts and mobile phone numbers. Aadhaar Declared Constitutionally Valid by Supreme Court, But It's Not Mandatory to Link it With Bank Accounts, Mobile Numbers.
The counsel for the petitioners, Shyam Divan, had raised concerns over the 'integrity of the process, integrity of the information and pervasive violation of fundamental rights. He had told the apex court that Aadhaar may cause the 'death of citizens' civil rights'. The government and the UIDAI have defended the scheme on every instance by stating that it ensures benefits are distributed among the population in a proper manner and also deters siphoning of funds. Aadhaar Verdict by Supreme Court: Justice DY Chandrachud Dissents With Majority Judgment, Holds Aadhaar Unconstitutional.